Class Hours: 9:40 – 2:05
Mr. Cronin
Notes
Welcome to CAWD 2020!
As you arrive please find your station, the password is student. Please don't touch any other equipment.
I need to get a photo of you today for your school ID's as we can't as a class go to the office. Quick and painless, no mask, no hat.
9:40 Attendance and Article
9:45 Welcome!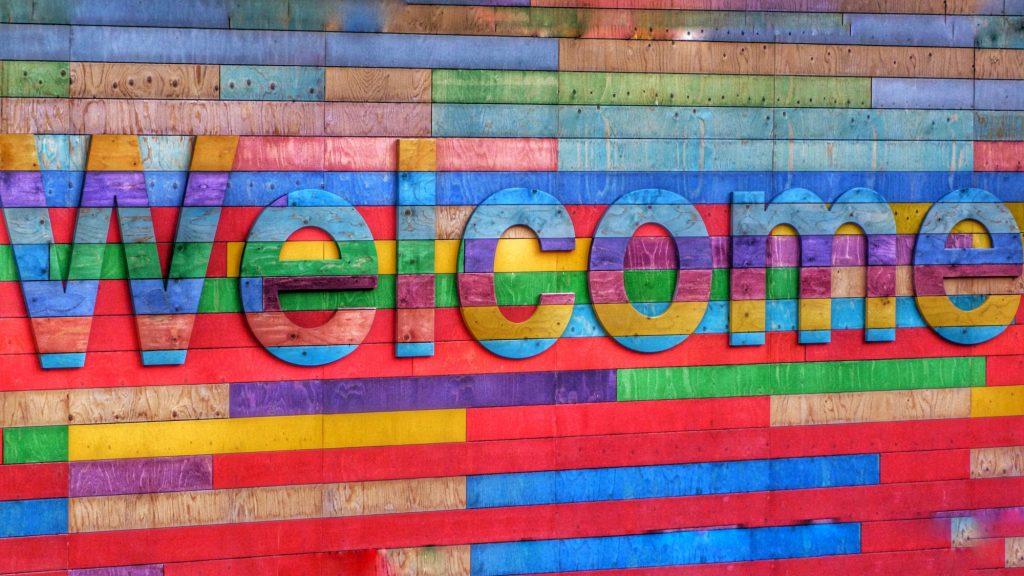 Welcome to CAWD 2020! Nothing like the normal routine of getting back into school! Everything's fine!
First I would like to introduce myself a bit visually to you:
Over the next couple weeks are going to have all students present themselves visually as well to get to know us. First – you have to learn how to connect and work with our Web Server, so … baby steps.
10:10 CAWD classroom expectations (ugh)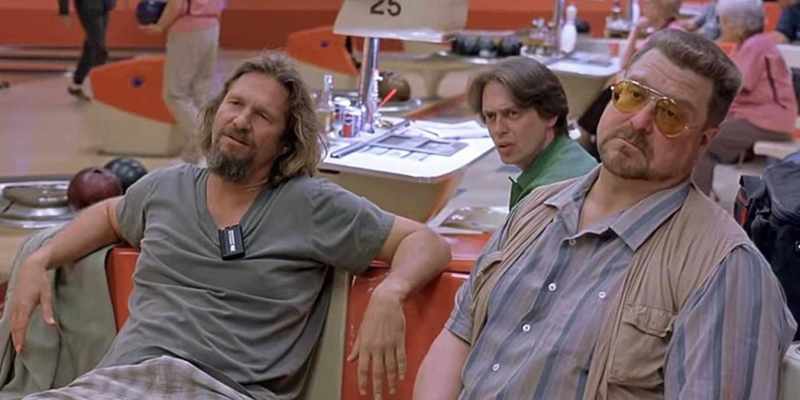 We aren't going to go over all our expectations on Day 1, but we have to go over some elements.
Masks – wear them!
Don't touch anything other than your station, chair, and art supplies – notice they are all assigned.
Bathroom locations
Drinks kept and drank on the drink shelf.
Mask breaks
Lunch and eating in the room
Please raise your hand if you have a question.
Remote students (A cohort only)
Your seat/chair/art cup are all assigned and need to remain where they are.
Attendance for days not in the classroom:

Wednesday meeting with Mr. Bisson 11-12. Who the heck is Mr. Bisson? You will meet him soon enough…
Remote day article and form. Reading the article and filling out our discussion form will count as your "attendance" for the two remote days not in the CAWD classroom. You will receive an email each day at 9:40 that you have to respond to by 2:05 pm to be considered "in class" for that day.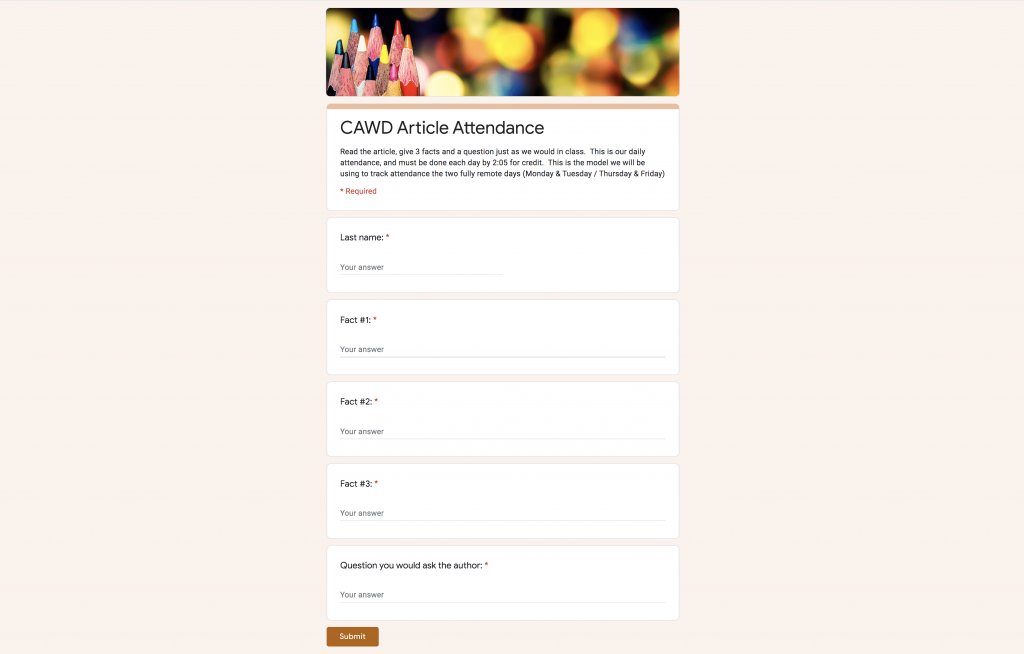 10:20 Start of School Paperwork / Sketchbook / Art Supplies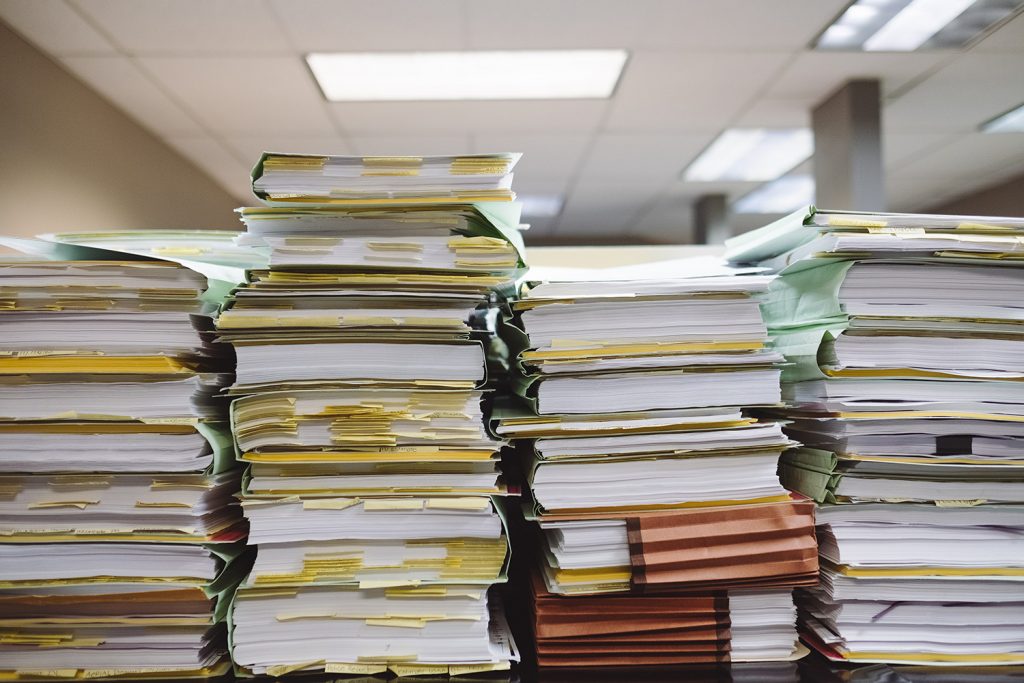 Sketchbook goes home and has to be in the classroom Monday and Tuesday's in case we need it. (As we can't have communal paper this year we will rely on sketchbooks for quick pre-production in class.)
Paperwork has to be filled out and returned by date on front.
The student handbook has all the rules that you are signing your name to. CAWD typically doesn't have to deal with a lot of these issues as we are … CAWD, but highlights include:

Don't be a bully. Don't harass anyone. Don't haze anyone. Always tell an adult if happening to you or someone else so we can solve quickly.
Don't come to class on substances. Don't be the lame high school kids vaping in the bathrooms.
Cell phones are like the sun. Look at it shortly, don't stare. Deal with them (read / send text), and then move on. If you are on your cell for more than 30 seconds we are going to have issues.
You may listen to music in the room only during Tuesday production when working independently after lunch.
Don't get in fights, don't bring weapons to school.
Don't leave school grounds. Be where you need to be on time.
Be good people. Don't lame. Be a Gryffindor, not a Slytherin.
10:25 Mask Break (10 Minutes)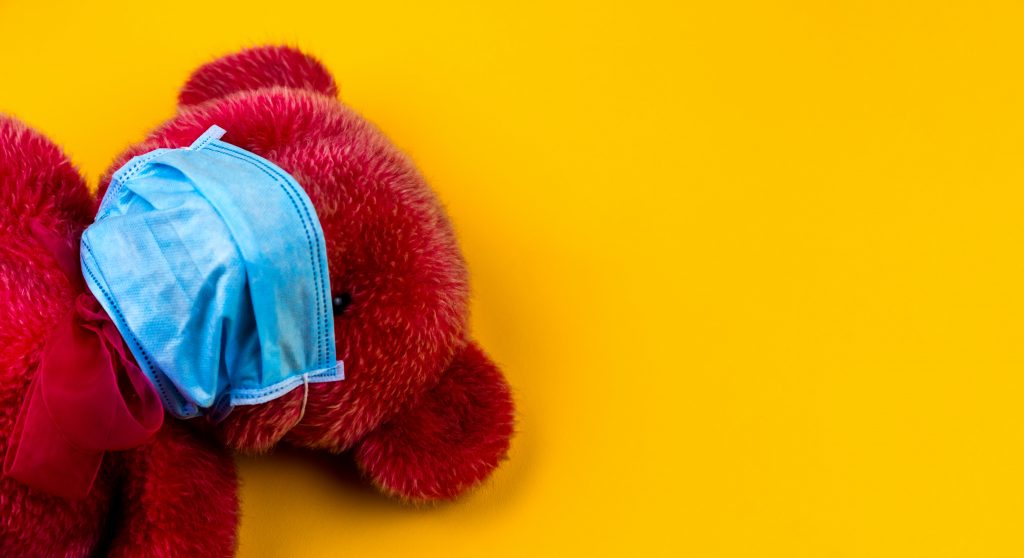 We are going to take a 10 minute break (seat to seat) outside to take our masks off and get some fresh air.
Plan on having a jacket, shoes to walk on grass, and potentially even an umbrella. You could even leave the umbrella on the floor at your station for the year if interested.
We have be efficient in this, when we walk outside, make sure you distance, take your mask off, and just breathe for a bit. 6 feet apart, move a bit, etc.
Our first mask break will be a walk to where we will rally for evacuations (fire-drills, etc), then we will walk back around to where we will typically get a breather.
10:35 Exploring our computers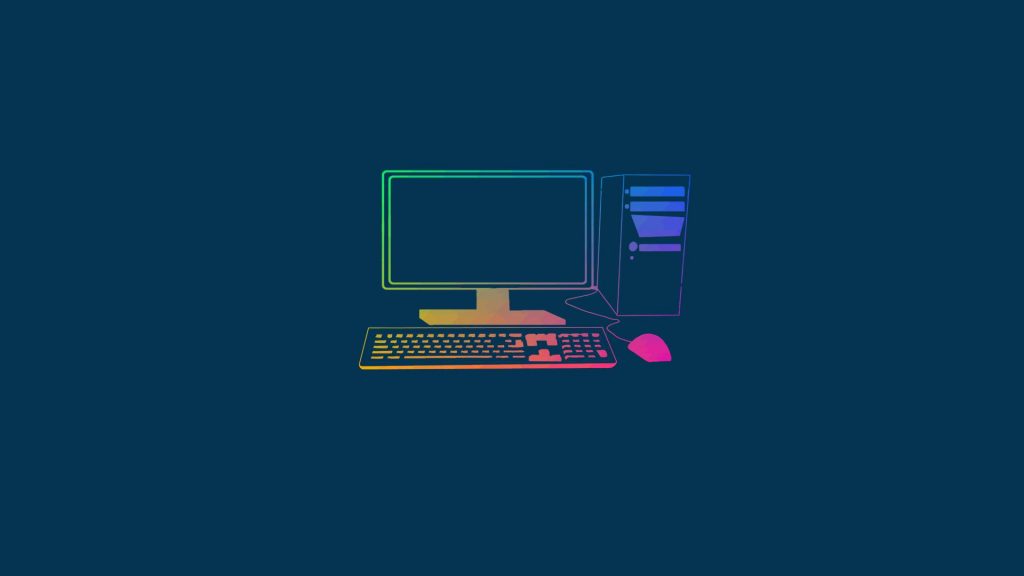 Google accounts – all end with vt.ewsd.org. The default password is "12345678"
Using Adobe in the room – connected to you Google accounts. Let's try with Photoshop.
Downloading and installing Blender 2.90 in class. It just came out!
Looking at the software which needs to be installed at home.
Any other time let's play in Blender!
11:45 Lunch (30 Minutes)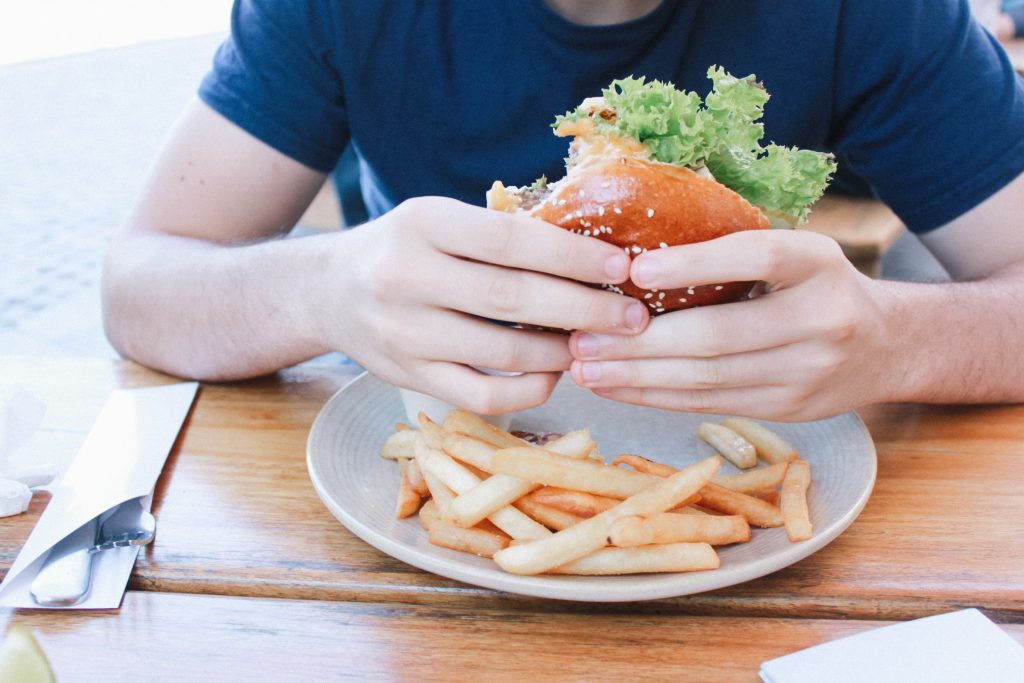 Eating at your station

Please don't make a mess, don't spill, don't let anything get on the carpet. I love this carpet.
Gently move the keyboard out of the way.

Drinks stay at the drink shelf
Stay in your seat after you return
We will all walk down together to the Kiosk together today so you know where to go. Pickup your lunch and return. You have to stay in the room and at your seat. It is what it is.
12:15 Wipe Down / Clean Stations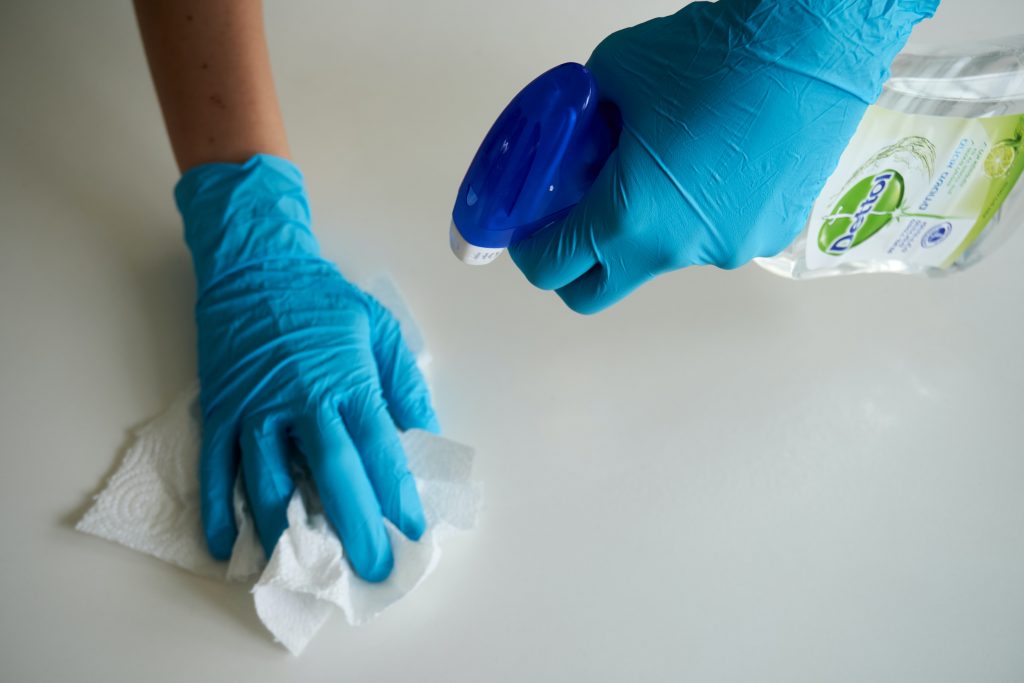 As we get to the end of our lunch period I will be giving you each a wipe or 2 to clean your station. Keep your area clean, as you are the only one sitting in it.
All garbage from lunch thrown out in hallway (hallway garbage). We don't want to smell it.
12:25 Logging into our Web Server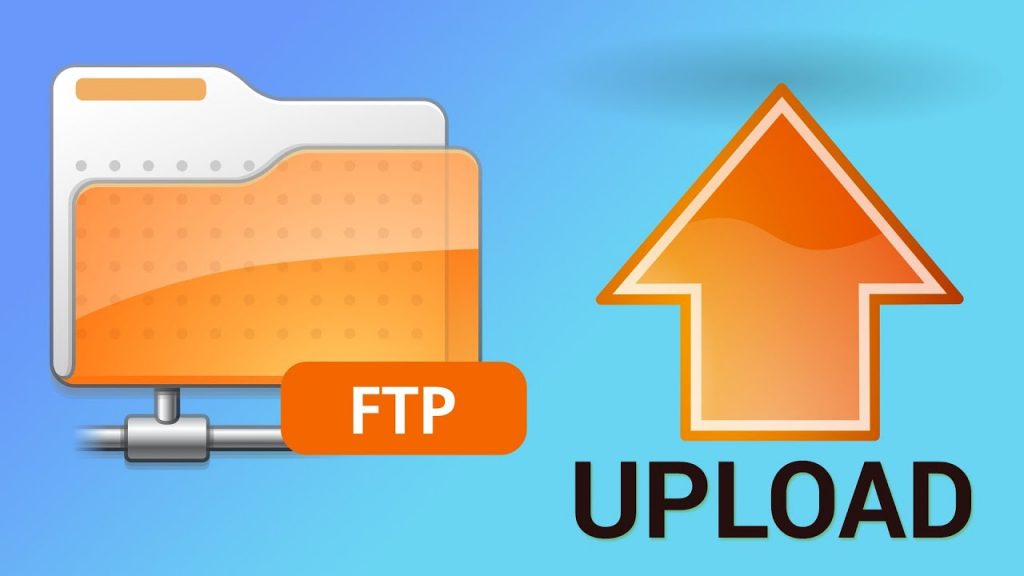 You are never (ok, super rarely) going to turn in physical work to me. You are going to turn your work in to our class website (cawdvt.org) for presentation and assessment. The tools and process to use will work in the CAWD classroom, at your home, in Tokyo – it would even work on the moon if the moon had wifi.
Today we are going get the class logging into their server spaces.
We are going to use FileZilla to connect our computers to the web server.
The host is our class website – www.cawdvt.org
The username is your first initial+lastname+@cawdvt.org. For example my name is "Matt Cronin" so my username is "mcronin@cawdvt.org"
The password is in your art cup.
Once we get it all in – let's all create a "week_01" folder. Inside this create a folder that says "bio". Inside that let's all put a picture of our favorite food in there, and any other imagery that you can tell us about you. Before our next mask break we will present our favorite foods to get to know each other a bit.
1:05 Mask Break (10 Minutes)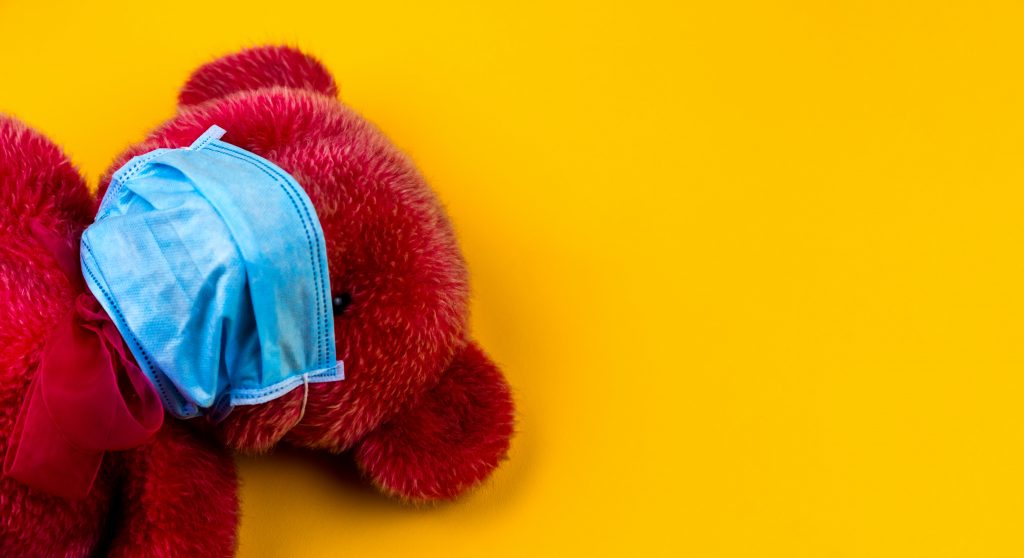 1:15 Academics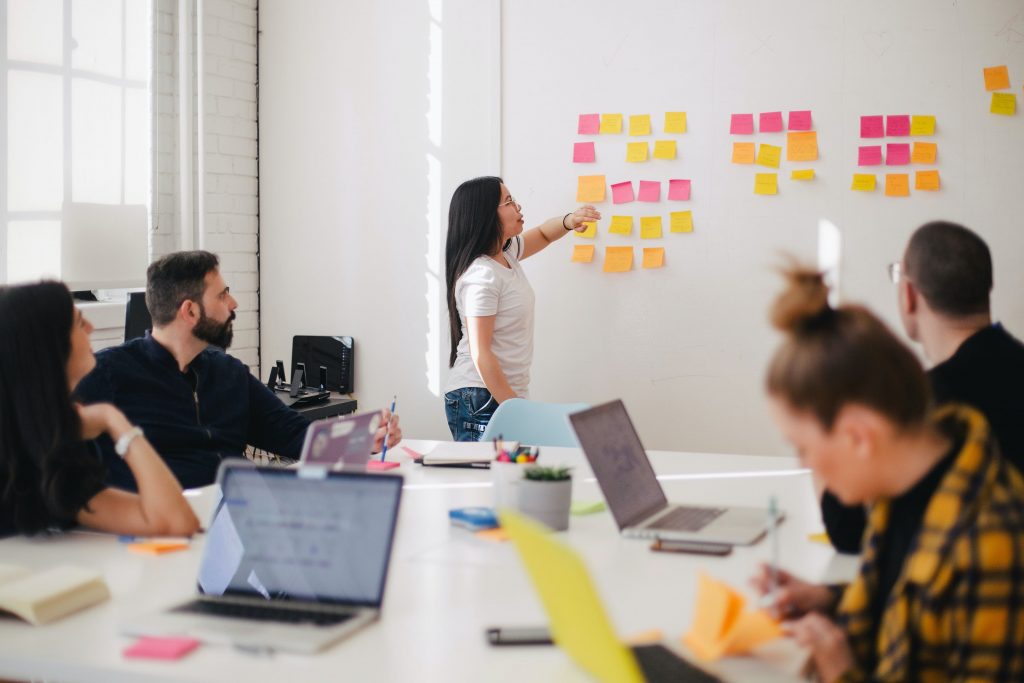 2:05 Dismissal