Assignment 4: Digital Painting on a 3D Scene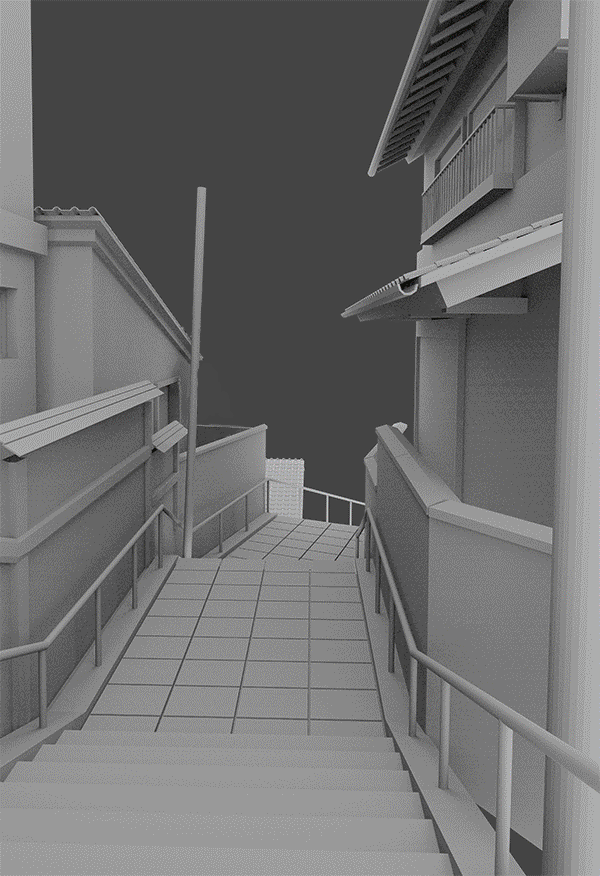 Assignment Goals / Tools you will be practicing
The focus
The 3D
This week we are going to combine our skills both 3D and 2D designers. You are going to build a rough scene in Blender to act as the base of your project. Doing this will allow you to setup a camera and get the correct perspectives of real life. Often when free painting we can get ratios, perspectives, and general "look and feel" wrong. By using a 3D scene as a framework, we are able to ensure the framework of what we paint is visually correct.
In terms of scene detail, you could do the example above and go for the "A".   The more complex and detailed you push yourself the more you will learn, and the greater the grade reward.  On the other hand you do something very basic with a plane and a cube, and then go through and paint in boards and decals for a "crate", but that would have to be verging on perfection to get the "A".  Shoot for somewhere in the middle.  
Create your render at 1080p.
Any previous project or scene you have created is acceptable to use for this project.
The Digital Painting
You will need to become familiar with digital painting in Photoshop.  I know many of you have practiced this extensively already, but if you are unpracticed please search the web for resources.  There are a host of videos on YouTube which can fill in your knowledge gaps.  Finding your own learning resources is typical in college, and required in the real world. 
Notice how this project starts first with a rough scene created in Blender, and then the artist digitally paints over the existing form.  The goal is that we paint completely over the 3D framework.  My goal is that the project feels like a single medium at the end.  If you truly feel you can reveal portions your 3D framework in the final product, that is up to you, but we may question you on it during presentations if it doesn't match the goal of a single medium.
In the far background it appears the designer uses a photo backdrop, and I am going to allow you to do the same in this college assignment.  You of course could paint your own backdrop if need be. (Personally I would try to NOT have anything 3D / Photo in the final product as it takes away from the digital painting, but this is up to you.)
In addition to the final static painting, I want you to create an animated gif where the different layers are "revealed". We should all start with the static 3D Render so we can see your scene, and then we will reveal more and more of the painted scene. I know Mr. Bohmann has gone over creating a gif with you, but if you don't know – look it up.
Here are examples from last years DIM class and what they were able to produce. Many students from this group used this project as a Portfolio piece for college!
What will this practice?
Roughing out 3D Scene in Blender (or any 3D software)
Digitally Painting / brushes / pressure sensitivity with our tablets
Blending Modes
Creating a consistent theme through subject, painting style, and color palette
Creating final presentational image, along with animated .gif that shows the construction
Deliverables
Create a "dim_4" folder inside of "dim" in your root directory. In this folder upload:
"3dPainting.jpg" – the final product at 1080p
"3dPaintingConstruction.gif" – an animated .gif file which shows the construction of your creation starting with the 3D scene.
critique.html – You can get an "A" for this even if you only use:

headings
paragraphs
lists
I really just care about your information and words, I am not grading you on anything related to web design. This will feel odd – I am happy to check your work before it is due.
If you don't know how to do something…
Google. In this college class there will be tasks where YOU will be in charge of finding the information you need, be it through YouTube, forums, program documentation, classmates, etc.
Talk to Mr. Bohmann.
Google.
Talk to me – but not on the day the assignment is due. I answer nothing the day an assignment is due for the entire class, it promotes a "last minute" work ethic.
Dates to remember
Assigned Wednesday, November 13th at 11AM
Due Wednesday, December 4th at 11AM