Assignment 5: SkillsUSA Pin Design
This week you are going to use Photoshop to create a Pin Design for the SkillsUSA Pin Design Competition. You are going to use and explore Photoshop's vector tools. Are they as in-depth as illustrator? No, but if you just have Photoshop they are pretty darn good. You should be practiced in what they can do.
To be clear, you are required to use Photoshop's vector based tools for this assignment. Shapes, fills, lines, etc.
In addition to the main Design Competition requirements, you are required to stick to one of 3 themes that I am requiring:
Alternative Energy – solar, wind turbines, geothermal, etc
LGBTIQ+ inclusion – the fact that Vermont is a pretty accepting state.
Church Steeple – the iconic image of a white Church Steeple found all over Vermont will be the foundation of your design.
Assignment Goals / Tools you will be practicing
Working of off specifics we can't change. Being creative within a set of constraints. This includes themes, guide sizes, etc.
Using Photoshop's built in Vector tools to build a Pin Design.
Use of CMYK (printing mode) for colors – this is different than RGB. When you create your document in Photoshop please choose CMYK. I will be checking this in your .psd for grading. As we are going to print these pins, it makes sense that we use the printing color model (CMYK)
Here are the official rules, I am going to hold us to the same standards of the actual design competition so what you create here has an immediate chance to be entered.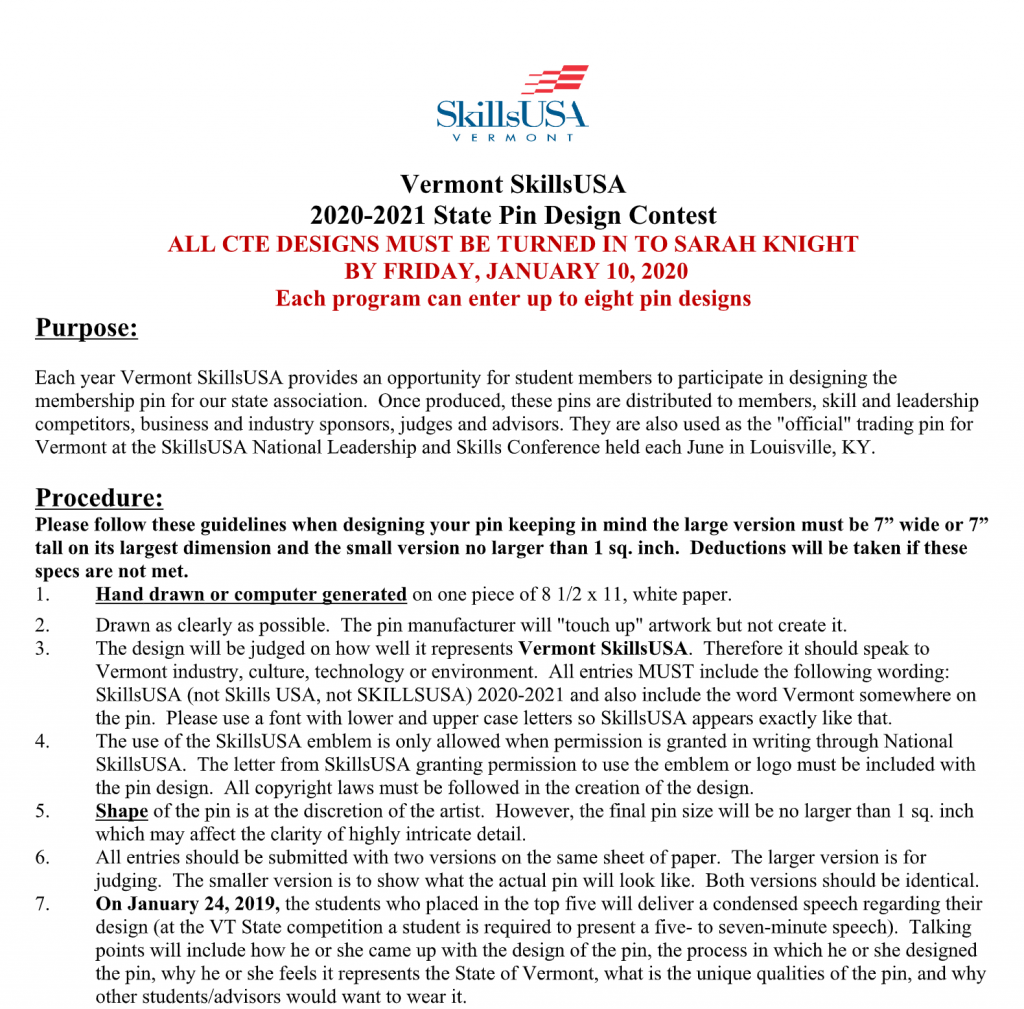 Please note specific requirements:
Start with standard 8.5″ x 11″ paper in CMYK color model.
Create guides to create square 7 inches by 7 inches. Your full size image goes there.
Create guides to create square 1 inch by 1 inch. Your thumbnail image goes there. The thumbnail is to be the exact same as the full size image. You will have to adjust here and there, but be honest – we just want to see the "big" version in pin size.
The text is:

Vermont
SkillsUSA
2020-2021 – the date is for next year.

You must use Vector tools in Photoshop for this assignment. I know you can digitally paint and use other raster based methods for this assignment, but as a DIM project you must use Photoshop's Vector tools. Shapes, lines, Pen tool for more detailed work. Layer the content!
Deliverables
Create a "dim_5" folder inside of "dim" in your root directory. In this folder upload:
"finalPin.jpg"
"finalPin.psd" – same file – just the .psd so I can check on your color mode.
critique.html – You can get an "A" for this even if you only use:

headings
paragraphs
lists
I really just care about your information and words, I am not grading you on anything related to web design. This will feel odd – I am happy to check your work before it is due.
If you don't know how to do something…
Google. In this college class there will be tasks where YOU will be in charge of finding the information you need, be it through YouTube, forums, program documentation, classmates, etc.
Talk to Mr. Bohmann.
Google.
Talk to me – but not on the day the assignment is due. I answer nothing the day an assignment is due for the entire class, it promotes a "last minute" work ethic.
Dates to remember
Assigned Wednesday, December 4th at 11AM
Due Wednesday, December 18th at 11AM