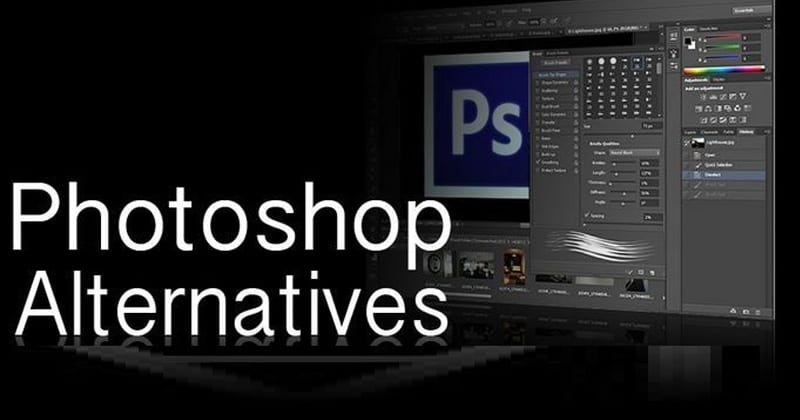 Assignment 6: Photoshop Alternatives
This week you are going to be working on some Digital Image Manipulation work using a Photoshop Alternative. My first requirement for this project is that the software must be free.
While fairly ubiquitous, there will be many times when you have to some image manipulation work and don't have Photoshop. In DIM 6 you are going to research and use some options so you know what is out there. There will be two main types of programs you can find:
Programs which can be downloaded and installed on devices.
Web based programs / applications that you use in a browser.
Which do you want to explore? Up to you.
Assignment Goals / Tools you will be practicing
Finding a number of free Photoshop alternatives, and trying them out, and picking one to focus on. Whatever OS you use at home, use that. If you don't have this at home, use whatever computer you have access to.
Getting hands on experience with the software and completing 2 tasks:

Create a 960 x 200 web graphic that says your last name saved as "webGraphic.png". Your name must be in the Raleway Font!
Creating a piece of art, be with painting tools, digital image editing tools, etc, saved as "design.jpg". Size is up to you.
Please note that one is a .png, and one is a .jpg.
In the Critique this week I want you talking extensively about your experience with the Photoshop alternative. Some points to cover at a minimum:
Name of of software / is it a program, or is it a web application (browser based)?
What is the workflow like? How does it differ from Photoshop?
What are the pro's?
What are the con's?
Would you consider using this in the future, or would you find another alternative?
Create a link (you have to make a link in html with the "a" tag) so I can download and learn more about the software you have chosen.
Deliverables
Create a "dim_6" folder inside of "dim" in your root directory. In this folder upload:
"webGraphic.png"
"design.jpg"
critique.html – You can get an "A" for this even if you only use:

headings
paragraphs
lists
Make sure that you answer the points above at a minimum!
If you don't know how to do something…
Google. In this college class there will be tasks where YOU will be in charge of finding the information you need, be it through YouTube, forums, program documentation, classmates, etc.
Talk to Mr. Bohmann.
Google.
Talk to me – but not on the day the assignment is due. I answer nothing the day an assignment is due for the entire class, it promotes a "last minute" work ethic.
Dates to remember
Assigned Wednesday, December 18th at 11AM
Due Thursday, January 2nd at 11AM
Please note this project is due the first day we return from Holiday Vacation, Thursday January 2nd, at 11AM. This will also be when the final DIM project (DIM 7) is assigned.