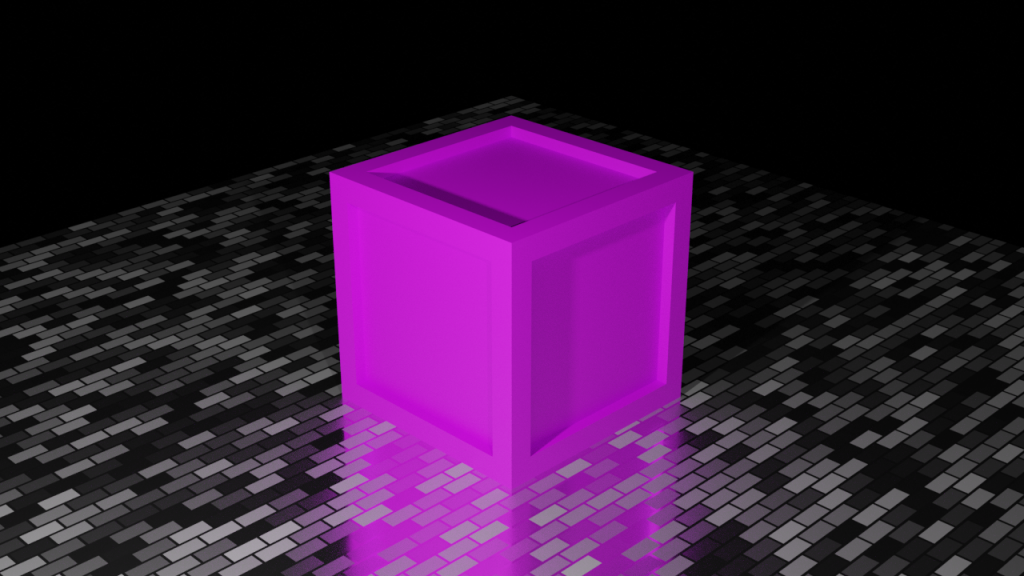 Assignment 7: Applying Digital Image Manipulation to 3D Workflow (Final Project)
In our final Digital Image Manipulation Project you are going to take your skills in DIM and apply them to a Cawd-centric workflow – 3D Texturing using Digital Image Manipulation as support. We are going to texture the purple crate you see above with a single image. No modeling / adjustments to the crate – we all will have the same asset to use as a canvas.
All work can be done in Blender 2.8 or 2.79B. Up to you. If you are overwhelmed by 2.8, use 2.79B, but 2.8 is really nice.
If you want to use the old version of Blender – you may have to open this file up in 2.8 and save it as an old version of Blender, or you can rebuild the file for Blender 2.79B. It is fairly basic:
Cube.
Inset on all 6 faces to give the illusion of boards on the exterior.
Extruded in to give the boards some depth. Use the render above as a guide, and open the file up in Blender 2.8 to "see" what it is supposed to look like.
Notice that I didn't say this work has to be done in Photoshop. This class is NOT a Photoshop class, it is a Digital Image Manipulation class. So in this final project you can do your standard Photoshop thing (no hate), use your new Photoshop alternative (applied learning), or work in Blender itself and do Digital Image Manipulation inside Blender. All of it fits in the theme of the class.
Here is the base file which we are all going to start with.
We are going to follow 1 of 2 possible workflows, up to you the Digital Designer.
Option 1 – Unwrap the image using standard unwrapping tools. Save the UV's and paint the texture in Photoshop (any image from the internet is fine for this project). Apply to Blender. Remember what we did last year in Blender, or look up tutorials. As of 12/27/19 there were ONLY a little over a half million resources to remind you how to do this on the Google. Work together in teams to learn, just create the final work product independently.
Option 2 – Use the the new Blender Texture Painting tools. You can actually paint on your 3D model in Blender, which is then applied to the texture map. A bit limiting if you are really comfortable with the Photoshop workflow, but really interesting and may be the what-is-next in 3D Texturing. Why use an external 2D program…if the 3D software does it all? Again, work together to learn – it may be a nice way to work collaboratively.
Up to you, but in the end either is going to create a texture map which can go right into a game engine and be used in a professional workflow.
I repeat:
Either way creates an external texture map for the object which is portable to a game engine, 3d application, uploadable to Sketchfab, etc.
How you want to finish your time in Digital Image Manipulation is up to you, choose the option that interests you, you know / can learn how to do, in the allotted time.
Deliverables
Create a "dim_7" folder inside of "dim" in your root directory. In this folder upload:
Final render called "(lastname)DIMFinal.png" at 1080p. This will show off your design. Something like this, where we can see your model and texture map in action, as if in a game or an animation.
Texture map called "(lastname)TexureMap.png". This will create a texture map to be used in any game engine, animation software, etc. This can saved from Blender, created in Photoshop, created in your Photoshop alternative, etc. Something like this, where we can see the parts that make up your crate texture.
critique.html – You can get an "A" for this even if you only use:

headings
paragraphs
lists
This is your final Critique – it is important to really talk about the option you used and paraphrase what you did, how it went, etc.
If you don't know how to do something…
Google. In this college class there will be tasks where YOU will be in charge of finding the information you need, be it through YouTube, forums, program documentation, classmates, etc.
Talk to Mr. Bohmann.
Google.
Talk to me – but not on the day the assignment is due. I answer nothing the day an assignment is due for the entire class, it promotes a "last minute" work ethic.
Dates to remember
Assigned Thursday, January 2nd at 11AM
Due Wednesday, January 15th at 11AM
Please note this is 1 less day than normal. This is your final DIM class project – any missing work also has to be turned in by 1/15.