Welcome!
Welcome everyone to Cawd Distance Learning! Over the next weeks we are going to continue to move through our 4th Quarter curriculum as best we can. This situation is continuing to evolve on a daily basis, but we in Cawd are ready to continue making incremental progress toward our 4th quarter learning objectives.
The 4th Quarter of Cawd typically has weekly blend of Web Design and Artistic Curriculum. Our Phase 1 adjustment for "distance learning" is going to be to front load the quarter (and time at home) with our Art curriculum. This classwork can be done at home without any special software or need for a computer beyond reading the assignments and following the resources.
If we reach April 6th and the school closure is extended, we are going to have to enter Phase 2. Phase 2 will involve adding Web Design to the existing Art curriculum delivered in a distance learning model. We are hoping to avoid this as barriers to doing this work at home increase due to technological needs, but we will do our best to adapt to the situation.
Phase 1 (March 23rd – April 6th)
Front-loaded focus on Art Curriculum through distance learning.
Students have class sketchbooks – but work can be done on any paper.
Students created "to go" bags of art supplies before we closed – but work can be done with any pencil / pen.
No need for special software / computers. Lesson plans and resources can be viewed with anything with internet – even cell phones.
Pause in Web Design Curriculum.
Phase 2 (April 6th and beyond)
Continued delivery of Art Curriculum (at a reduction from Phase 1).
Commencement of Web Design curriculum through distance learning.

96% of students said they COULD write code at home in a Cawd student survey before schools closed. We will confirm this with each family.
Students have access to Cawd web server from anywhere with internet. Code can be written anywhere with internet (with free software) and uploaded to our server (with free software). Compared to many other programs and classes – this should be an area of advantage for Cawd.
Students that can't write code at home – we will need to get creative. I will work with each family individually.
Anticipated Cawd Curriculum Schedule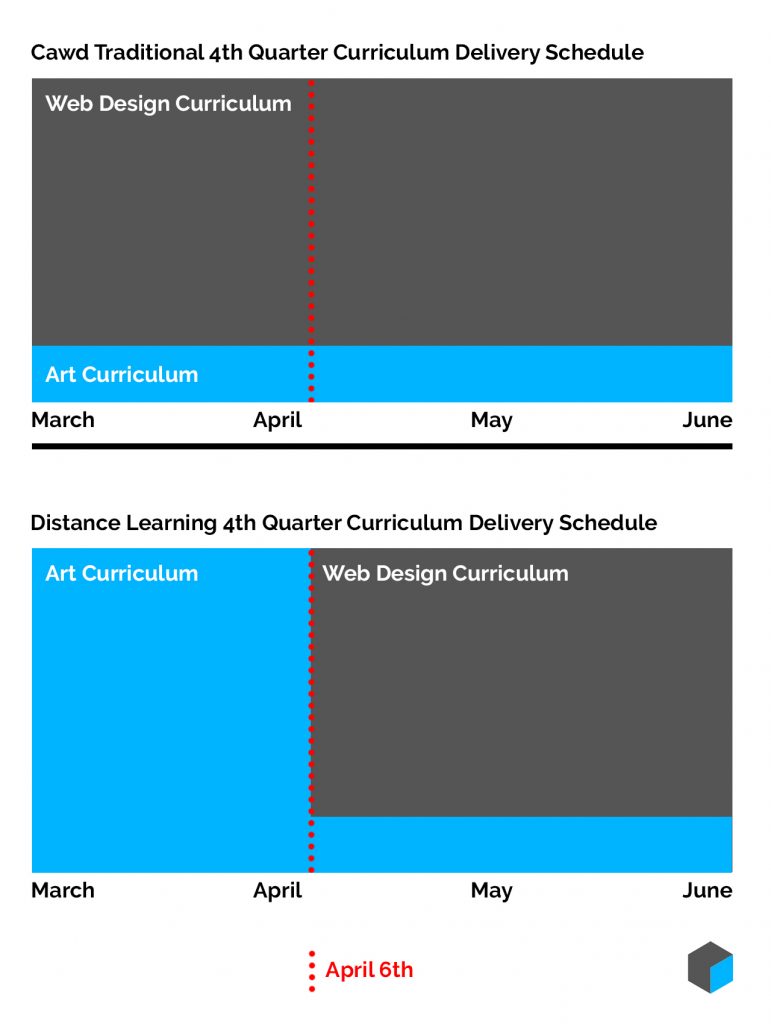 As you can see things are going to be different. We are going to do our best to continue to engage the students and deliver Cawd curriculum, while understanding the realities of the situation.
---
Contacting Mr. Cronin
I am going to hold official "Office Hours" on Monday's from 10AM – Noon. During this time I plan on sitting at my computer and answering emails immediately.
With this said please email me at any time. It goes right to my phone and I am check it often. Students know they can email me whenever, and I will do my best to get back to you as soon as I can.
---
Preparing for Phase 2
While we are in Phase 1 until April 6th, we need to be proactive about Phase 2. To be honest Cawd is already setup very well for this.
Lessons are going to be available online through our class site. Students use this daily in Cawd.
Code can be written at home using Atom (free software). Students use this daily in Cawd.
Projects can be submitted to Cawd server from home using Filezilla (free software). Students use this daily in Cawd.
We are going to start preparing for Phase 2 by doing a Cawd Tech survey. I realize we did this already in class with students only, but I want to involve parents as well. Please fill out this survey to let me know if you can get Atom, get Filezilla, and connect to our Web Server.
Students and families that don't have access to a computer are going to work individually with Mr. Cronin with some other options.
Please fill the survey out – one per family.
---
Web Development College Class
The Web Development College Class will run as normal with projects being due and assigned on Wednesday's at 11AM. The first project of the college class was to setup a home office, so for these students it will be business as usual.
---
Access to food during school closings
If you are hungry remember that EWSD is going to continue to provide food. Check out these listings and options to make sure everyone is well fed while at home!
---
In closing
I realize that this is going to be different, and in many ways more ways less efficient that in classroom teaching model. Nobody is arguing with that. At the same time we must continue to cover curriculum – let's make these days count.
If there are any questions please email me at any time. Please do not call the school as we are not there either!
We will get through this together.
Matt Cronin | mcronin@ewsd.org