Class Hours: 9:40 – 2:05
Mr. Cronin
Mr. Bohmann
Quizzes on Friday morning. 15% of your grade are the quizzes, typically 9 new, 1 review, and 1 extra credit question from our articles.
This years Sat / Act prep work comes from "100 Most Common SAT Words" by Quizlet. As we are using their list to pull from you are able to use their free study tools. Make a free account so you add the new words to your Study Bank. As the weeks go by and you are studying from this ever-growing word bank, you will find that your vocabulary (speaking and retention) has improved.
The weekly latin root comes from "42 Most Common Latin Roots".
Sat / Act prep
Congregation – crowd of people. "The Smash Brothers tournament in Cawd2 caused a congregation to form to watch."
Convergence – joining of parts. "Many small rivers converge and empty into Lake Champlain."
Deleterious – harmful. "Since launching about three years ago, the Juul has become one of the hottest e-cigarettes on the market, even though it has been proven deleterious to your health."
Latin Root of the week
Cred – believe. "The judge determined the witness was credible, and was allowed to testify at the trial."
Illustrator
Adobe Illustrator is a software tool used primarily for creating Vector graphics.
The Direct Selection Tool (White arrow) allows you to select individual element on a piece of Vector art. For example we can select a point, a bezier handle, etc.
The Anchor Point Tool (looks like an upside down V) allows the designer to:

Convert a corner point to a curved point by clicking and dragging.
Covert a curved point to a corner point by simply clicking (and not dragging).

The Properties Panel of Illustrator allows you to set the Fill and Stroke for a design element (among other things).
The Fill is the inner color, the "fill" of that shape.
The Stroke is the outline, the outer boundary that surrounds the fill.
In Illustrator (any many other tools) a color value that is a white box with a red line through it stands for "None".
Illustrator handles Layers slightly different than tools like Photoshop, with the main difference being the ability to have sub-layers. Often an Illustrator file may look like it has a single layer until you start unfolding it and voila, there are your assets.
General Design
Vector graphics are computer graphics images that are defined in terms of 2D points, which are connected by lines and curves to form polygons and other shapes. The position of the points, and lines that connect them, are defined by mathematical equations.
Due to being based in math, Vector graphics have the ability to be scaled infinitely without loss in quality. This is the main advantage of Vector Graphics.
Raster / Bitmap Graphics are images created with a grid of individual pixels that collectively compose an image. Raster graphics are a collection of countless tiny squares. Each square, or pixel, is coded in a specific hue or shade.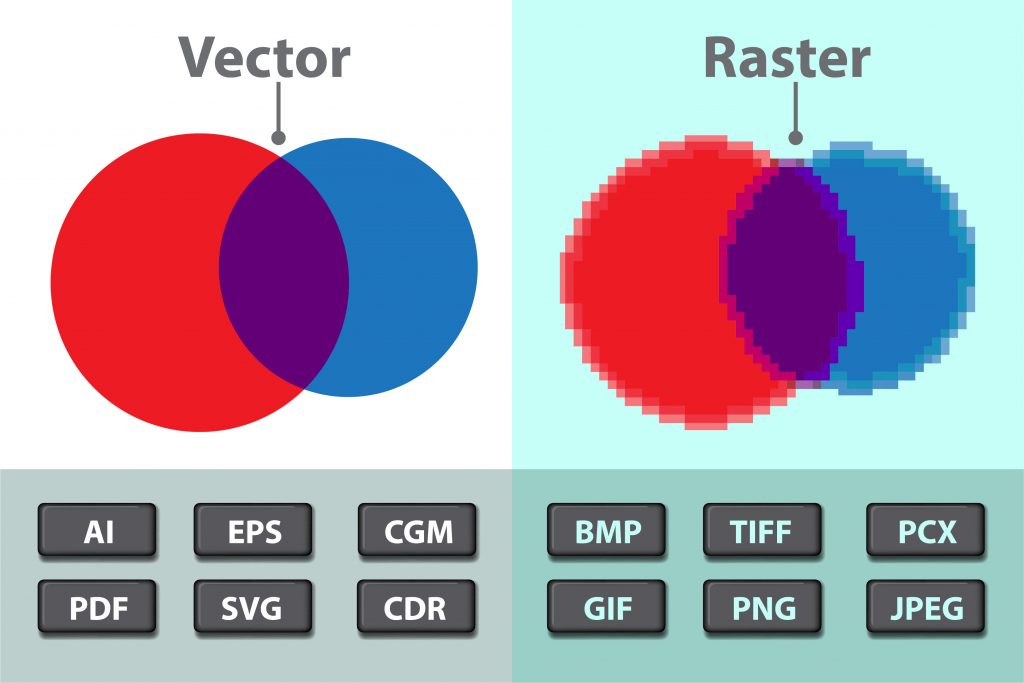 A DISADVANTAGE of Vector graphics is they aren't good for photo realism / photography, where there are simply too many shapes, colors, and design elements.
A DISADVANTAGE of Raster / Bitmap graphics is that they get pixelated when they are scaled up.
Raleway is an elegant sans-serif typeface family intended for headings and other large size usage. It is what we used both in our character sheets, but also the display text of the Cawd Website.