Live Office Hours: 10:30-12:30 Monday – Friday
friend me on Discord: wbohmann#0447
wbohmann@ewsd.org
Live Meeting this week – April 8th at Noon – Link
https://meet.google.com/prd-jtcx-ngr
Notes:
Last week's "What is Due" is up
Read this dayplan carefully. There are four(4) Activities. Do a little each day!
Parents – if you are reading this, please read through the whole dayplan and go over with your student
April 6 – April 10th
Objectives:
Community: maintaining our connections, relationships, and learning that make up our Cawd 2 classroom.
Learning: Create engagement, build an online community and develop routines so we can keep'er movin!.
Equity: Design learning experiences that provide equal access to all.
---
Start Here – Welcome to Week 30. Be sure to read over carefully. Below you will find each of your assignments. We will meet live once this week using Google Meet – April 8th at Noon. https://meet.google.com/prd-jtcx-ngr
New Unit – Game Design & Development
Game Designer's need to play games? Do you play games?…
Well you might just be the next great game designer!
What Does a Game Designer Do?
The primary goal for a game designer is to create virtual worlds and experiences for players, from Sci-fi and farm environments to classic characters like Mario and Alyx Vance, Game Designers dream the worlds you play.
Game Designers are like architects. They develop plans, but they are called prototypes. From prototypes, programmers code and artists create the worlds and environments.
For the better part of Quarter 4, we are going to explore the world of game design and development. Nice!
---
Warm Up – Set up your Week 30 folder on the server. (If you do not recall your credentials, email me).
Activity #1 – The Worst Video Game Ever Made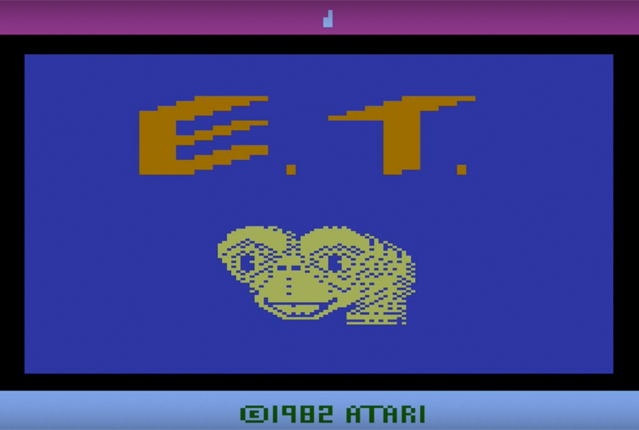 For the first activity of the week I'd like to you simply listen to a short podcast and respond to a few questions.
Episode 387: "The Worst Video Game Ever" from 99% Invisible.
In this episode you will learn a little history about the video game console, Atari, and what happens when you don't consider your primary user.
Listen any way you want:
On the web: https://99percentinvisible.org/episode/the-worst-video-game-ever/
On Spotify: https://open.spotify.com/episode/3leeMKJxta3yQszY0c0HT2
On Apple Podcasts or another favorite podcast, just subscribe to 99% Invisible
After listening to the Podcast, please respond to the questions on this Google Form
---
Activity #2 The Roles of the Game Designer
There are lots of areas of expertise in the field of game design. Three primary roles/categories encompass this career path. Those roles include:
Game Designer
Game Programmer
Game Artist
Some of those categories broken down into specific roles include:
Lead Game Designer – defines the game, establishes the core concept and features of the game – big picture person
Level Designer – designs the layout, flow, layout and placement of props, maybe even some scripting
Assets & Environmental Designer – works with the creative director to model the worlds, assets and builds
Content Designer – comes up with the quests, the story, the dialog, the missions and in game material
Systems Designer – determines the collection of mechanics that controls the outcome, combat system or inventory system, magic systems – you get the picture
Economics Designer determines the award system, costs of items (like swords) awards, level ups, damage, etc…
Creative Director – sets the creative course of the game and holds to overall vision together
Game Producer – ensures funding and different roles are working together to produce a high quality game on time
Which role sounds most exciting to you?
For this activity, you will create a new Google Doc. Name it Game Careers.
Explore several jobs (anywhere on the globe) that are hiring in the field of game design. Then answer these questions:
What types of jobs are there in game design?
What types of jobs in game design did you look at or find most interesting to you? What did you like?
What kinds of qualifications are necessary for the jobs you looked at?
Where are a lot of the jobs located?
What career search engines did you look at? Which did you like the most for career exploration? (from the list below or others)
Upwork is a site for professionals to freelance work. Indeed, Glassdoor, LinkedIn, Dice, Career Builder are all job search engines.
Save your Google Docs as a PDF. Upload to your Week 30 Folder.
Filename: Game Careers
---
Activity #3 Gaming in Action – Making a Game
This exercise is likely not going to produce any award winning games, however, what it will do is produce a game. This exercise will get you thinking about game design ideas, the basics of game mechanics, play dynamics, conflict and goals. By the end of this week, you will have a game!
Here is what you need (bare basics):
Paper
Pen/Pencil or Marker
2 coins or similar looking objects (to represent players)
A single die
What to Do: We'd like to play your game. Create A Google Slide Show. Name your game on Slide #1.
Read all of the Steps below
For steps 1,2,3 and 5 create a corresponding Google Slide to help us understand your game. For your board you can use a pen/pencil or if you want to be fancy, use a digital program of your choosing. Take a picture and upload for your Step #1.
Step One: The Pattern
Games like Life, Candyland have a game pattern. You start at point A and go to point B. The first player there wins.
Your Task: Draw up a gameboard. You can color it anyway that you want to, use straight or squiggly lines. Divide up your line into spaces in which you can fit a coin.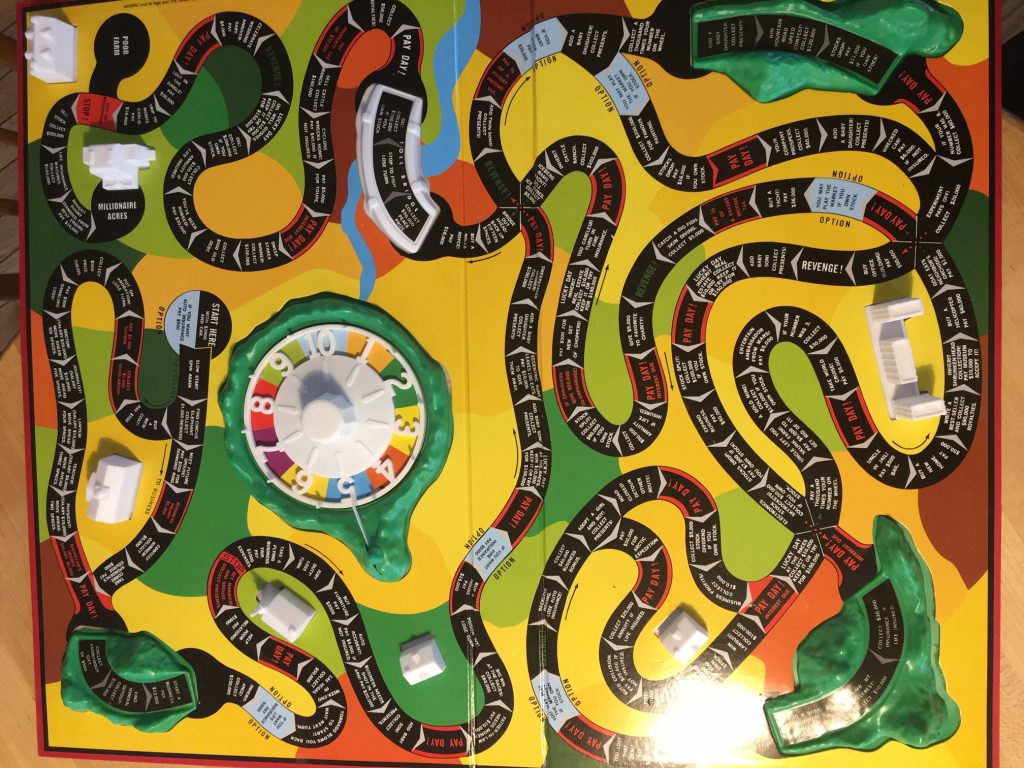 Step Two: The Narrative
A game without a narrative would be boring. Maybe you are a robber trying to get away, maybe you are trapped in your house and need to break out. What are you racing toward or what are you racing from?
Your Task: Come up with your narrative.
Step Three – Game Mechanics
In Subway Surfer, the game mechanic is running, the the Game of Life, it is a wheel. In your game this week, the game mechanic will be a single die. When rolled it will determine the movement along the spaces. Can you skip spaces, are there board shortcuts? Do some spaces have more or less power than others? Are there wheels to spin (life), extra rolls, etc…
Your Task: Determine how your game mechanic fits with your game.
Step Four – Players
Who is playing? It there is only one person, it is not much of a race to the finish, but that's ok if there is a good narrative and game play (conflict). Use the two coins and let's assume this week you are creating a game for at least two players.
Step Five – Conflict & Complexity
A game without conflict would be super dull. If there was no conflict in Donkey Kong you would not have to worry about rolling barrels, fire balls and jumps = lame.
Your Task: In your game, does landing on a space speed you up, slow you down, send you back, send you forward, lose a turn…? How can your identify the conflict on your board? Do you draw cards, gather assets… How difficult is it to move from A to B?.

Step Six – Play
Ok, you've got your board, your dice, your players, it has a beginning and an end, conflict and a goal. Well done. Here's a A to B game example – check it out called the Hare & Tortoise
What to Do: We'd like to play your game. Create A Google Slide Show. Name your game on Slide #1.
For steps 1,2,3 and 5 create a corresponding Google Slide to help us understand your game. For your board you can use a pen/pencil or if you want to be fancy, use a digital program of your choosing. Take a picture and upload for your Step #1.
Drop your finished game slide show in this Game Dropbox
Next week we will try each other's games out.
---
Activity #4 Update Goodreads Account
You should be reading at least 30 minutes, twice per week. That is a minimum. For you college bound students, you will be reading nearly two hours per day next fall. I kid you not. Find a good book and read. There is plenty of time. 1 hour a week is very doable.
Your Task: Be sure to update your Goodreads account. This is easy. Just go to your homepage and update the page number on your book.

---

Challenge By Choice – Experts Only….
The Challenge by Choice is optional. – So you can stop right there if you don't feel like going any further.
The Challenge by Choice is ungraded and does not count for or against your grade. It is simply a challenge for you – because who doesn't like a challenge! Only tackle the challenge if you have completed all your other work first.
Challenge By Choice – Making a Meal –
Chef …(insert your name here)
A great way to build your independence and to prepare you for the next step beyond your home is to show others that you can cook (or are willing to try).

For this challenge:
Cook a meal for you and / or for others
Document in images the prep, the cooking and the finished product
Use your Photoshop skills to put together a nice collage, including the recipe
If you'd rather create a slideshow, that's cool too – You're the Chef!
If you step up and complete the Challenge – email it to me and I'll post on Instagram!
Will Bohmann | wbohmann@ewsd.org