Live Office Hours: 10:30-12:30 Monday – Friday
friend me on Discord: wbohmann#0447
wbohmann@ewsd.org
Start Here – Welcome to Week 30
April 13th – 17th
Live Meeting this week – April 15th at Noon – Live Link
Notes:
Last week's "What is Due" is up
I've broken up the Dayplan into suggested work (for each day), although you can work ahead if you like
Spring Break Week – April 18th – 26th – No School Activities
$2000 Scholarship – Check this out!
Live meeting at 12pm (noon) on Wednesday, link above.
Monday
The Core of a Game
Last week we explored what the role of the game designer is and the types of roles game designers play in the creation of a game. This week, we'll explore the Core of a Game.
The Core of a game is the game's statement of purpose. For example, the core of the Battlefield games is surviving a wartime encounter. The core of Rock Band is about making great music with friends. The core of Don't Starve is identified right in the title!
---
Warm Up – Set up your Week 31 folder on the server.
Activity #1 – Identifying Core Game Loops
(30 minutes)
For this activity, I'd like you to select three games that you enjoy playing.
The core of a game is the one thing that a game is about – it's statement of purpose. Games have different features that help support the core.
For example, let's say your game's core is character development (World of Warcraft). You start as a little level one hunter and by the end of the game you'll be a level 100 master hunter. Everything in the game feeds the game core. In this example, your character. Combat gives you XP which makes your character gain levels, gaining levels give you skills and powers, more power means bigger monsters to battle, bigger monsters means more XP, etc…. on and on it goes like a loop.
Every feature in your game and every action should feed back into this core loop. Without a core loop players don't feel a progression or motivation.
Use this Google Form to Identify Game Cores & Core Loops of your favorite games.
---
Tuesday
This week I'd like you to become familiar with the fundamentals of Unity. We'll be using the Unity game engine for the remainder of the year.
Activity #2 – Download & Install Unity
(45 minutes)
To download and install Unity, follow instructions on the Unity page. You are going to download the personal version that way you do not have to create a GitHub account. Unity is free. If you already have Unity, go through this process again so you have the most up to date version and the Unity Hub.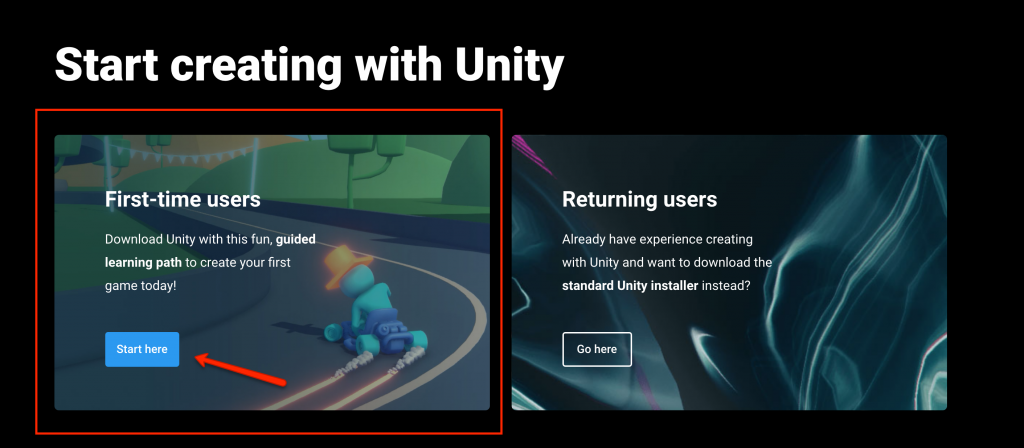 Unity Hub is a launcher for Unity. Make sure you can find it once you've downloaded Unity. On the Unity Hub you will find tutorials and sample projects. The goal for today is just to explore around. Check out the learn paths and resources, open the Unity Editor and click around.
When you have successfully installed Unity, let me know with a quick professional email.
---
Wednesday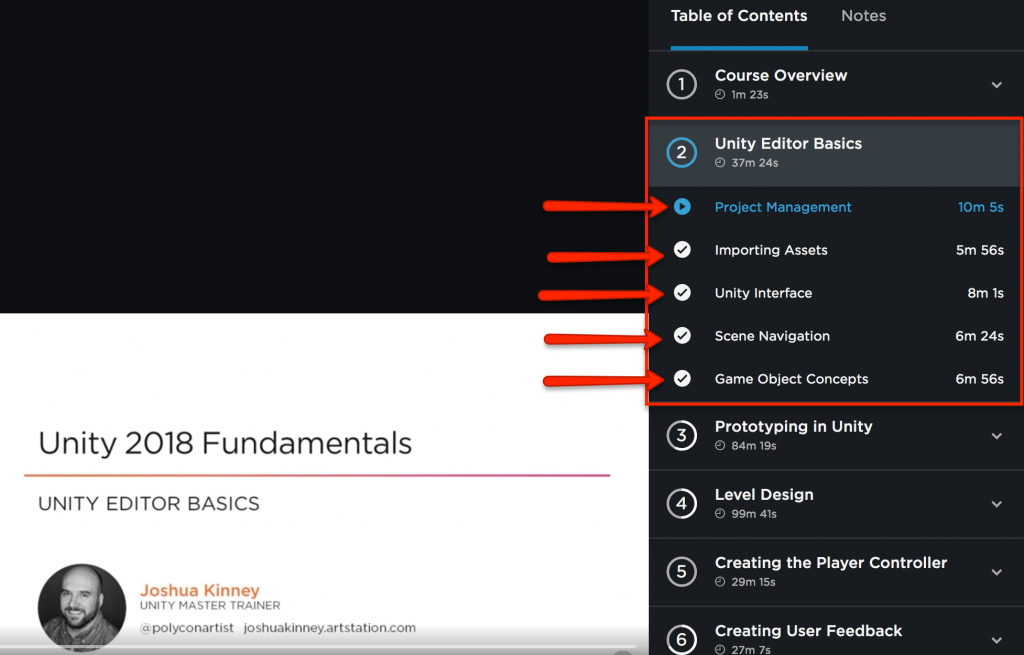 Activity #3 Unity Editor Basics
(50 minutes)
Pluralsight is a web resource that is offering free courses during the month of April. I've inspected their offerings and one course does a really good job of explaining the basics of navigating in Unity. This would be the same overview I would be giving you if we were in the classroom.
What to do:
Create an account (free) with Pluralsight
Search for the Unity 2018 Fundamentals Course
Complete only the Unity Editor Basics tutorial – (just the section in the image above). Total time of the tutorials is 37 minutes.
At the end of this tutorial you will understand how to create a scene, import content, understand Unity navigation and create basic objects. The Essentials!
---
Thursday
Activity #4 Karting Microgame
(90 – 120* minutes)
Finally. Creating your first Unity game. Here is mine – give it a play!
Using the Learn Unity resources, you are going to create a Karting Microgame. The purpose of this activity is to learn how different parts of Unity come together to create a complete product. Plus it's fun!
What to do:
Open Unity Hub and | Select Learn | Karting Microgame
Choose, Download Project, then Open Project
Complete the walk-through tutorials and tasks
Publish your game – Choose a good name (follow the tutorial for publishing and sharing – it will walk you through it)
Mod your game – change it's look, play, features, etc…
Changing your game & publishing opens up new features to mod!
*If you get into this, you might choose to spend a lot of time modding your game
Paste the Link to your Game and Follow this link to play games your classmates made
Friday
Activity #5 Update your Goodreads account
This is easy. Just go to your homepage and update the page number of the book you are reading.

You should be reading at least 30 minutes, twice per week.
---
Challenge By Choice – Experts Only….

Challenge By Choice – Experts Only….
The Challenge by Choice is optional. – So you can stop right there if you don't feel like going any further.
The Challenge by Choice is ungraded and does not count for or against your grade. It is simply a challenge for you – because who doesn't like a challenge! Only tackle the challenge if you have completed all your other work first.
Challenge By Choice – Space Asset

For this challenge: Create an asset(s) for a space game in Blender. Export as .fbx file type and place in your Week 31 folder. Filename:space_asset

You can make any space asset or assets you like. (asteroid, planets, spaceships….)

Will Bohmann | wbohmann@ewsd.org