So What is Cawd?
The Computer Animation and Web Design program is designed for students interested in acquiring new media skills and entering the fast paced and rapidly changing areas of Animation, Game Design, and Web Development.
As a supporting role to our core focuses, we also cover Graphic Design, Video Production and Traditional Art as it applies to our industries.
As a class we also look at "Worker Traits", or transferrable skills which can be applied to any industry. These business soft skills are what employers tell us are most important, if someone is hard working when they walk in the door, they can "learn the business".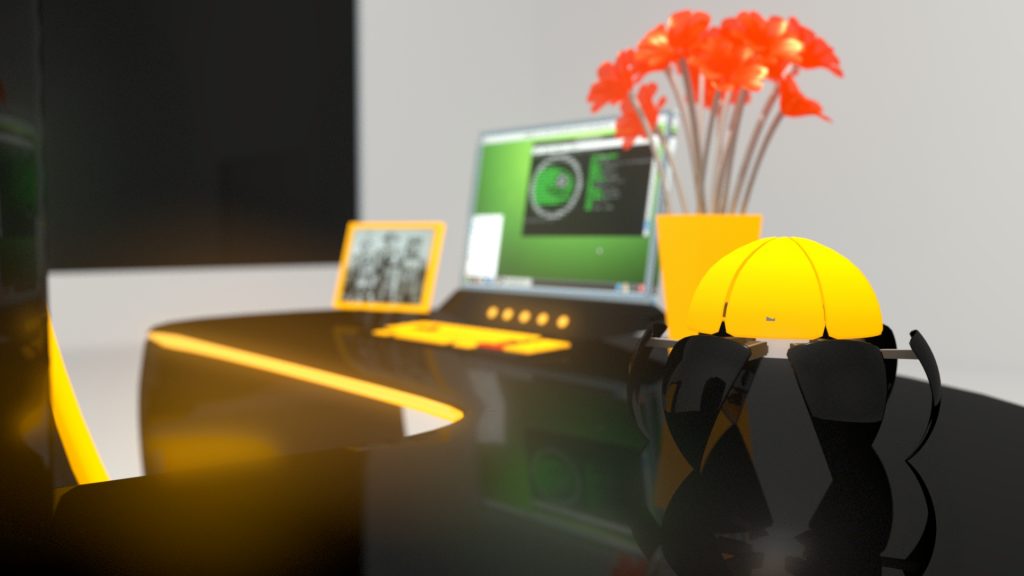 Computer Animation & Game Design
Our Computer Animation & Game Design coursework explores both Game Design / Development and Linear Animation.
Our Computer Animation component takes advantage of state-of-the-art 2D and 3D digital computer hardware and software used in creating such Disney Films as Elemental.  Linear animation is created with Blender, After Effects, and Premiere – again industry standards you will find in design studios around the world.
Our Game Design component explores what it takes to build a Video Game. Our students use Unreal Engine and Unity, two industry standard game development engines. Students will learn industry standard workflow and learn what it takes to bring your ideas to playable games.
Web Design & Development

During our Web Design and Development focused curriculum, students will design websites with creative interfaces, strong layouts, functional site organization and logical navigation.  Responsive Design is a focus, where our students learn to design for all types of digital media, from computers, to tablets, to cell phones.
Starting with the design first, students will brainstorm layout ideas, create mockups by hand and in different illustration programs such as Illustrator and Photoshop.  Once the design is complete students then go on to bringing it to interactive life through current and emerging industry technologies.  The marriage of front end technologies (HTML5 / CSS / JavaScript) is extensively pushed.
Cawd2
Students may apply to be accepted into our Cawd2 second year program.  These students go on and look at the server side of web design, with MySQL databases and continued in-depth work with languages such as PHP and Javascript.  Photography, special effects video with After Effects, and Physics are all part of Cawd2.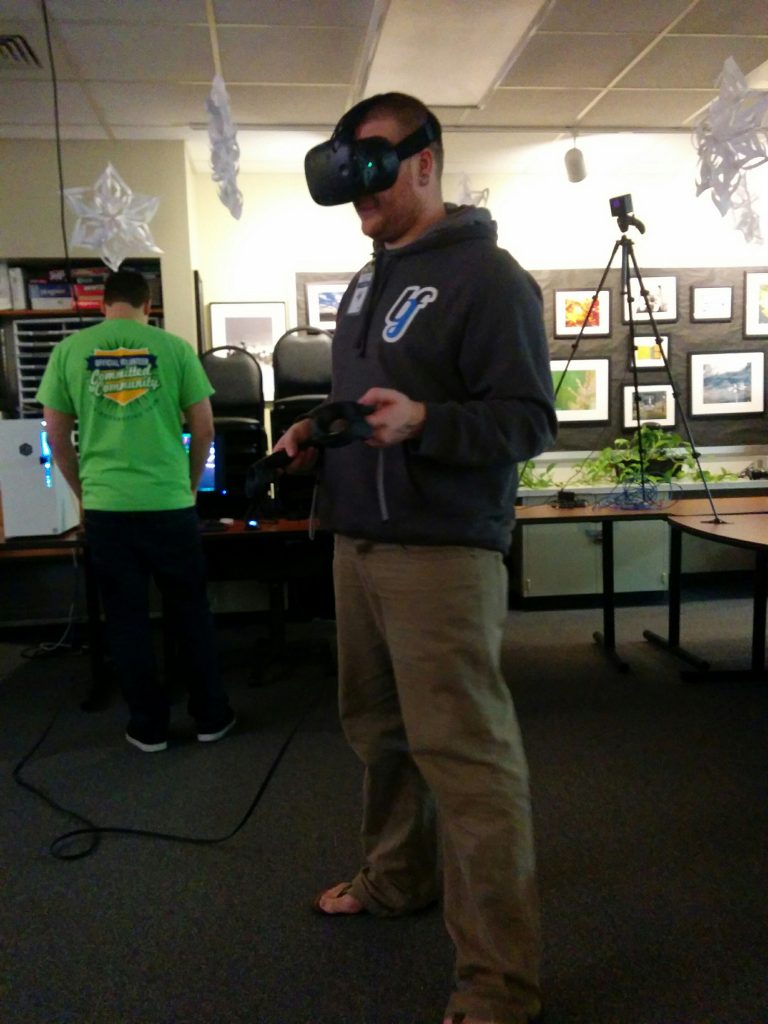 Cawd2 has also made the jump into VR Development. If Virtual Reality interests you Cawd2 is one of a small number of high school programs in the country which are leveraging this new medium.
High School Credits Awarded
The Cawd program is built to seamlessly integrate with High School graduation requirements. Whether you are from South Burlington, Charlotte, Burlington, or Richmond, studying at the Cawd program continues your path to on-time graduation.
The Cawd program offers the following credits:
One English Credit
One Fine Arts Credit
Three Elective Credits
The Cawd2 program offers the following credits:
One English Credit
One Computer Science Credit
Three Elective Credits
The credits for Cawd and Cawd2 are different, yet complementary. Cawd has a goal to create a challenging and achievable experience with an eye towards both high school graduation and college admissions.
Dual Enrollment in Cawd – Earn College Credits while in high school:
Eligible students can earn college credits while in the Cawd program. Our students will have the chance to earn college credit in the following classes:
Cawd2 students will be taking part in a "Cawd2 to College" program, where every student is required to take either "Drawing 1" or "Python Programming" during the school day on Friday mornings at the new Winooski CCV campus. It is important that students push themselves outside of their comfort zone, and Cawd2 offers an option for both the art and technical focused students. You love to draw and create? You love to write code? Either focus has fulfilling career options, and we offer students opportunities in both.
Certification Opportunities:
Near the end of our web design coursework, students who we feel are ready may take the Web Professionals Web Designer Certification Exam. This exam is run by an internationally recognized organization known for their work on internet technologies and standards. It is an objective, 3rd party assessment of our students abilities.
Design Competitions:
Cawd students have a reputation for being high quality, accomplished students.  Through the SkillsUSA Organization Cawd students have taken part in national design competitions, and won numerous national accolades.  
Just last summer our students earned the Gold Medal in "3D Animation and Visualization".
2023 National Champions in "3D Animation and Visualization" / Alex and Brennan.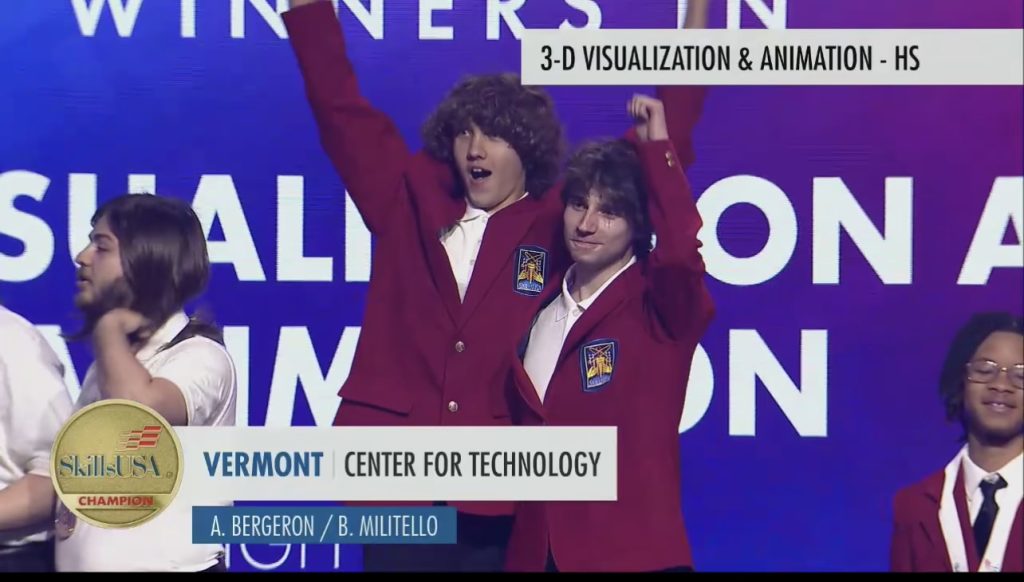 In 2017 students from our Cawd program won both the Gold Medal in "3D Animation and Visualization" as well as the Gold Medal "Web Design". In our two main disciplines, our Cawd students are National Champions in each.  That says something about our students, and what they can do while in our program.
2017 National Champions in "3D Animation and Visualization" / Soren and Eileen.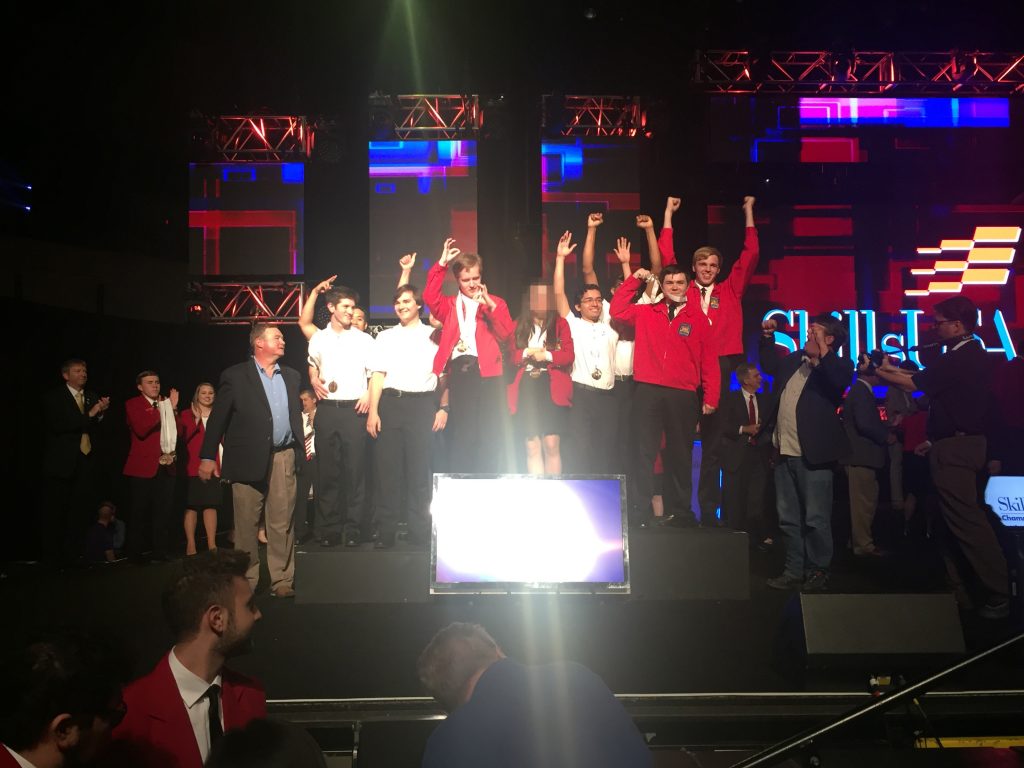 2017 National Champions in "Web Design" / Ryan and Alex.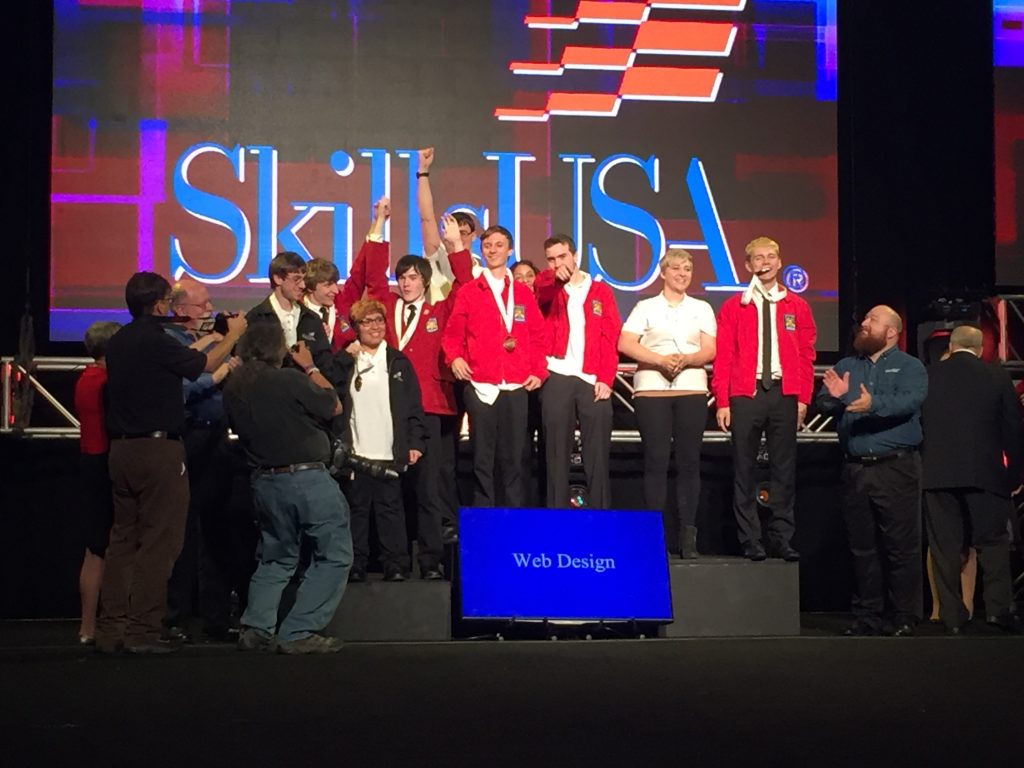 Not to be ignored, students from our program took 9th place in "Interactive Application and Video Game Design" as well, our 2nd top 10 finish nationally in two years.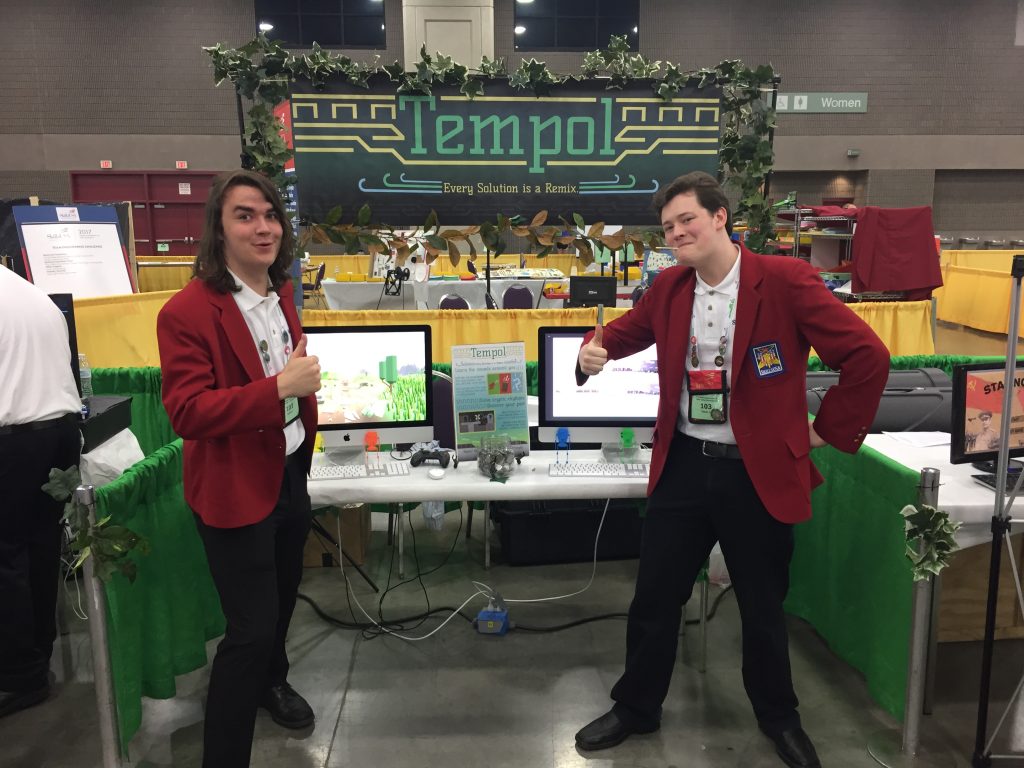 What's Next?
Upon graduation of the program, students will have an interactive online portfolio of their best work to take on to higher education, internships, or the work force. Their portfolio will be representative of their skills and experiences gained through the year-long study (two years if accepted into Cawd2). These student portfolios have opened doors at businesses, as well as move students past entry level college coursework – why pay and spend time on something you already know?
Education after Cawd:
Students that finish our program have the chance to continue their education at any number of institutions. Whether you want a Bachelors degree, Associates degree, or Certificate of Study – our students have literally traveled around the world to follow their dreams. Students have gone on to study at: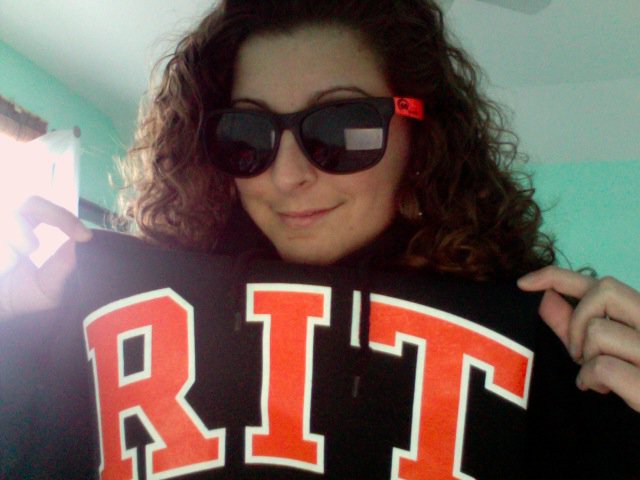 Just to name a few – far too many to list.
Is it for you?
Are you interested in being creative with technology?
Do you find you doodle on homework?
Do you use your cell phone for more than making phone calls?
Do you like puppies?
Do you enjoy playing video games?
Have you heard of "the internet", and do you find yourself on it frequently?
Do you know what a subreddit is?
Are you familiar with memes?
If some of these sound like you, Cawd may be a program that is engaging, and useful to start your career. You will never know unless you visit. Talk to your Guidance Counselors at your high school and find out when your school is visiting CTE, and get on the list.