Class Hours: 9:40 – 2:05
Mr. Cronin
Notes
Welcome to CAWD 2023!
Find your Quarter 1 seat and feel free to explore.
No food in the room, please store and drink drinks on the shelf.
9:40 Attendance
9:50 Welcome and Introduction!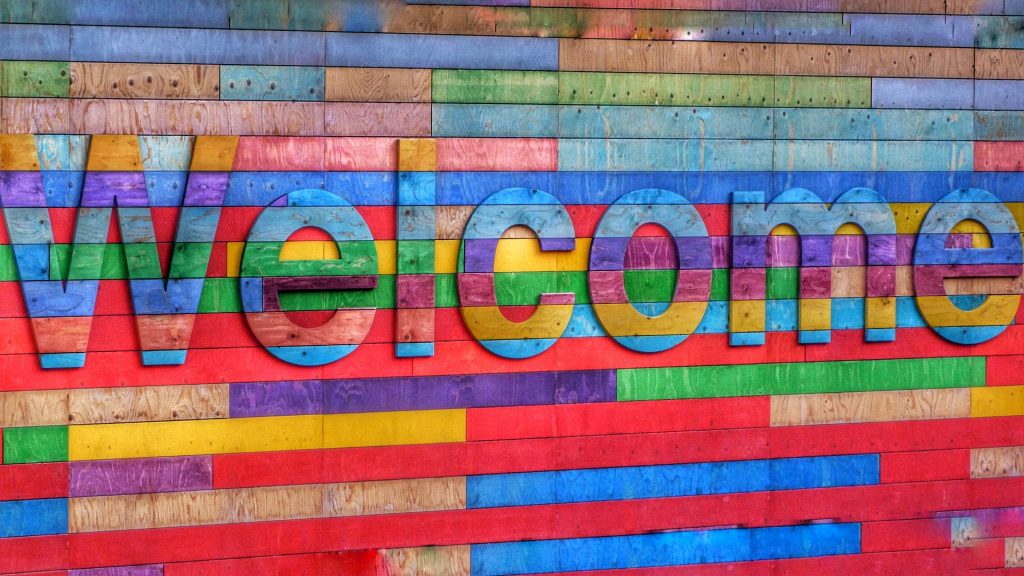 About Mr. Cronin

Born in NYC
Grew up in Arlington / South Burlington
Lives in Underhill with family
Went to Fairleigh Dickinson University for my undergraduate degree
Went to Champlain College for my graduate degree
I have a wife, 3 daughters, a dog, a cat, and lots of chickens.
I am uncomfortable with new people, new situations, unknown timing transitions, unknown details, etc. Today is hard for me! If anyone else out there is nervous, we will get through it together. Good things are in store for us.

About CAWD

Semester 1 – Animation / Game Design / Video Editing
Semester 2 – Web Design and Development / College Credits / Certifications / Design Competitions
We do graphic design and sketching throughout the entire year. Your class sketchbook! Take it home – no Design Homework's until after Labor Day weekend – but feel free to start creating. Put your name tag on the front cover … now.

No secret to success in CAWD. Hard workers, good communicators, nice people, will do well. Some of you come very highly recommended, we are looking forward to seeing what you can do.
CAWD Classroom opens at 9:20. You are welcome to come in and work / socialize before class, watch YouTube, come and breakdance, socialize, pushups – whatever.
CAWD Classroom closes at 2:05
Attendance is based on the clock.

9:40 attendance – start of class.
10:45 attendance – after our morning break.
12:45 attendance – after lunch.
1:20 attendance – after our afternoon break.
We go by our computer clocks.

Bathrooms.
Our Instagram – a great way for family and friends to see what you are creating in class. Let's stroll through the recent posts so you can see our late spring / summer events.
Kids are doing good things after CAWD. Our biggest employer of our Alumni is Dealer.com with 15 former CAWD students working there! In the spring we do Job Shadows there, and match current and former CAWD students together.
We have two students that recently graduated college, Judah and Donovan. Each found work from home employment in the Games Industry. They both still live in Vermont and…
Anyone here watch Twitch? Baddie was a CAWD student, worked at Dealer for a while, built up his Streaming Empire, and now just streams full time. He bought a house with 20 acres from a career in streaming. RIGHT BEFORE COVID he came in and presented to us, maybe get him in here again…
English class and credit
Seating – not for the year, just for Q1, each quarter we will move seats. If you volunteer to move the machines yourselves (need big strong volunteers) then the computer itself moves and you keep all your files / bookmarks / etc. Nothing to worry about until Halloween… do you have your costume ready?
Food & Drink in CAWD

No food in the room.
Don't throw food out in the room (it makes the room smell)
Drinks must be kept on the drink shelf and "used" there.
If there is an accident (don't have an accident) please come and tell me ASAP so we can clean it.

With Covid moving slightly behind us I would love to get back to pre-vacation Game Day Pot Lucks in CAWD. Haven't had since 2019…, and here, and here. Does your family have an amazing cookie, or hot cheese dip, or brownie, or sandwich, or … typically we do these the day before vacations, starting the Friday before Thanksgiving.
Cell phones / Discord / text messages -> Learning how to use our phones and Discord appropriately in 2022 and beyond.

Cell phones! CAWD is a class where we are training you to be a young professional. Saying "no phone", makes no sense to me as a teacher. We also need during our Web Dev semester to program for! Learning how to use your phone responsibly is the goal:

Use your phone/Discord is like looking at the sun. If you get a notification, you can check it, respond, and then put it away. Don't stare at it.
Keep the notifications silent. We don't want to hear vibrations.
If this becomes an issue we will have to adjust your phone expectations, or have you check it in the main office at the start of the day. I have zero interest in this. Let's just all work to practice using phones responsibly.
Obviously, no speaking on the phones during class.
Don't take photos of anyone in class without expressed permission, even if in the background.
10:05 Your Personal Workstation
We don't share them – the machine is yours to use for the year. Bookmarks can be built, log into Spotify, Discord, etc. Nobody is to be on any others workstations.
Once we get a bit father into the year music can be listened to as you work. Not during presentations, articles, teaching, etc. Independent work time = music ok.
We are admins. With great power…
Logging into the computers.
Logging into the school (EWSD) Gmail:

If already in the district your Gmail should continue to work from last year.
If new to the district, usernames are your first initial and last name – like "mcronin"

Then the "@" symbol
Then "vt.ewsd.org" at the end
… except for Joshua Mathieson who is jmathieson1@vt.ewsd.org. You are special.
The default password for new users should be "12345678"

Don't change the background – for now. Why don't you get to choose your background to start the year? Let me tell you a story…
For now we are going to start with a "week_01" folder in the Documents. In a couple weeks we will move everyone to the cloud, but for now, Documents is fine. Let's all find Documents and create that folder together.
Nothing ever saved on the Desktop.
Setting our homepage to cawdvt.org in Chrome
Our Public drive – only available to CAWD / CAWD2. Think of it as an island in your kitchen. Anyone can write to it, anyone can delete. Only put copies of your work there. Copies only! As every year our class is going to respect each others work, do not touch the work of others.
We have no printer. The world is digital. We will embrace this.
Don't install any other software without talking to me first. If it is free / you own it, and it isn't rated M, there is a good chance that we can figure something out. House rule – no FPS during school, even if T.
10:35 Morning Break (10 minutes)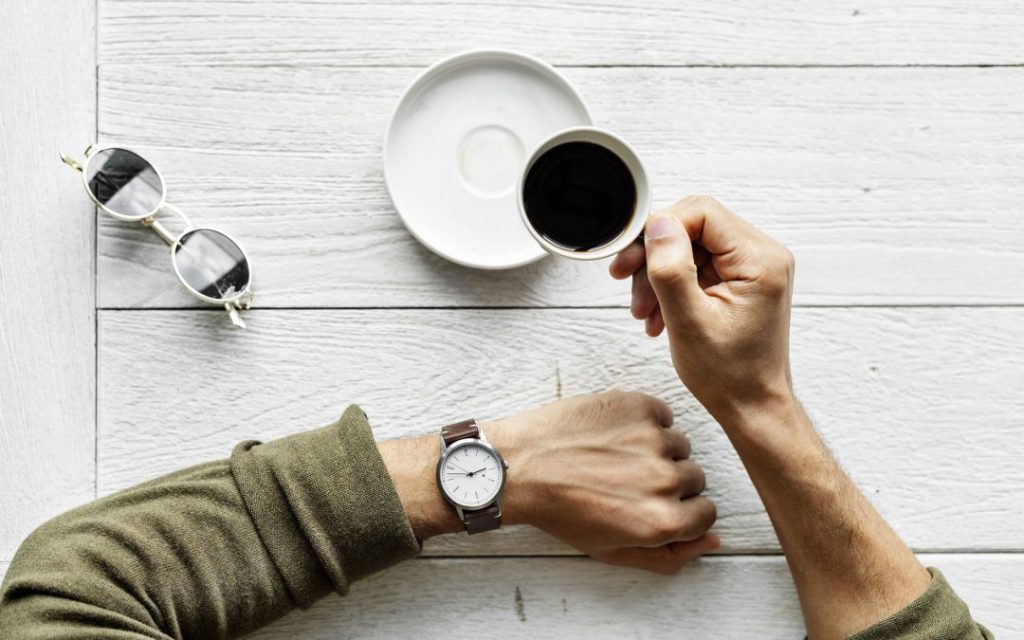 10 Minutes break – you have to exit the room.
When the door near the TV is open, you are welcome to come back in.
For the first week of school we are going to keep the CAWD room open for breaks.
10:45 Adobe Sign in

I am anticipating about 80% of these work – and that is fine – we are talking Day 1. Whoever can't get in we will talk to IT. Got to walk before we can run.
11:00 Schedules and location of classes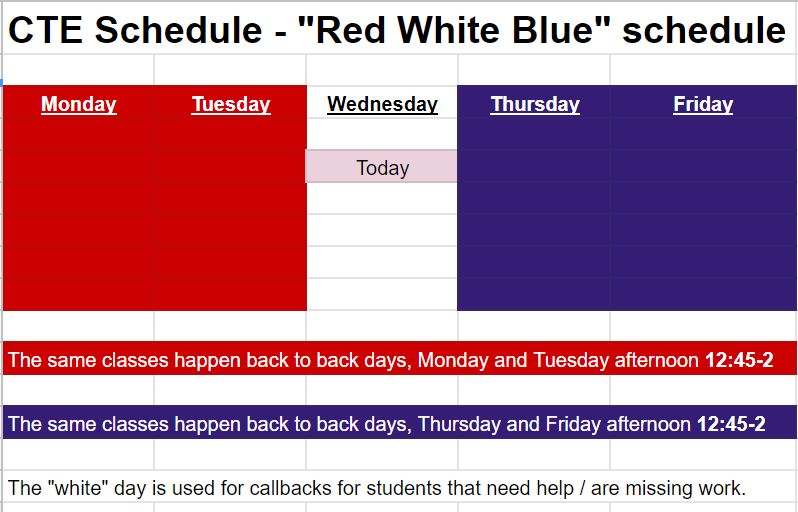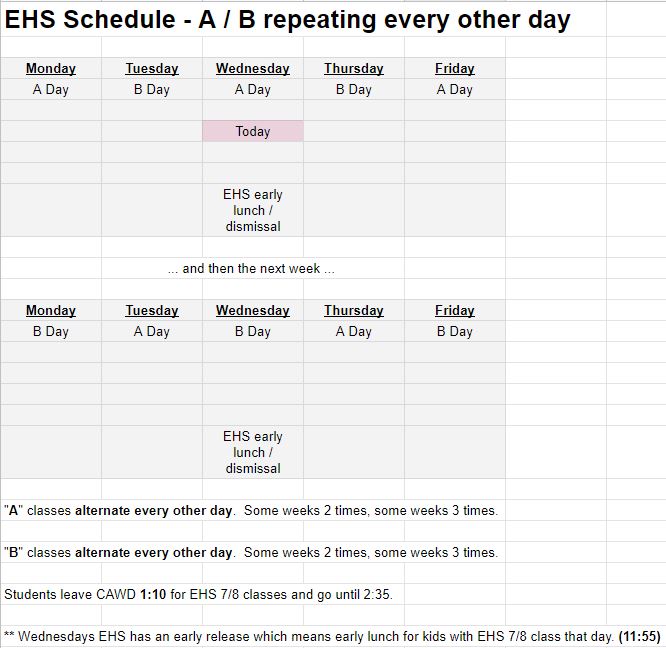 CTE uses a Red vs. White vs. Blue (and using the older "A" vs. "B" day listing on the schedule)
EHS still uses the "A" vs. "B" alternating day schedule
Class room labeling / how to read our schedules

1 = first floor (typically)
2 = second floor
M = under the library
R = Rink classrooms

Early releases

On Wednesday's students with EHS 7/8 classes ONLY will leave for lunch at 11:55 and be done for the day in CAWD. You have to leave early as your 7/8 will start at 12:25 – when CAWD is at lunch.
We will roll and adapt to whatever your sending school and transportation needs are, such as BFA. Some other schools will have delayed starts every month. It will take some time to get adjusted to it, but honestly it becomes pretty routine pretty quickly.
CAWD's schedule never changes as we have students from all over. 9:40 – 2 Daily.

Schedules / let's see where we are going when.
How to get to Public Issues (D105A) and the Rink (any room number with a R):
How to get to the IT Helpdesk and the Nurse from CAWD:
How to get the M classrooms (any room number with an M):
Today is a Wednesday, so….
No CTE academic classes. Today is a "White" day for CTE – no 7/8 academic classes ever on Wednesdays for students taking CTE academic classes.
"A" 7/8 classes for EHS students who leave at 1:10 typically, but EHS decided to do early release on the first day of school, so students with EHS 7/8 classes need to be dismissed at 11:55 for their early lunch, and then you have to go to your 7/8 class early. You will leave at 11:55, and I will see you tomorrow.
Will this be confusing? Yes! Will we figure it out? Yes!
When you are done for the day – regardless if it is today at 11:55, or 12:45, or 2:00 – always turn off your computer and leave the station clean. In CAWD we will have clean and organized work stations.
11:55 Lunch information
Free again this year.
You can have double breakfast, but only a single lunch.
You have been emailed your specific lunch code. You will type this in each time you use your account.
We are all going to walk down today and get the lay of the land for lunch, as this is new to everyone. We are going to extend lunch today a bit so we can get everyone comfortable. Tomorrow we will get a bit closer to normal lunch times, and then Friday we will have "normal" lunch.
When you are done eating you are welcome to return to hang out, play guitar, play out our Switch and N64, etc. (Be warned I am the best N64 Smash player you know, and I will wreck you, but it is always cute to watch the noobs try.)
Remember – no food in the room.
12:00 Lunch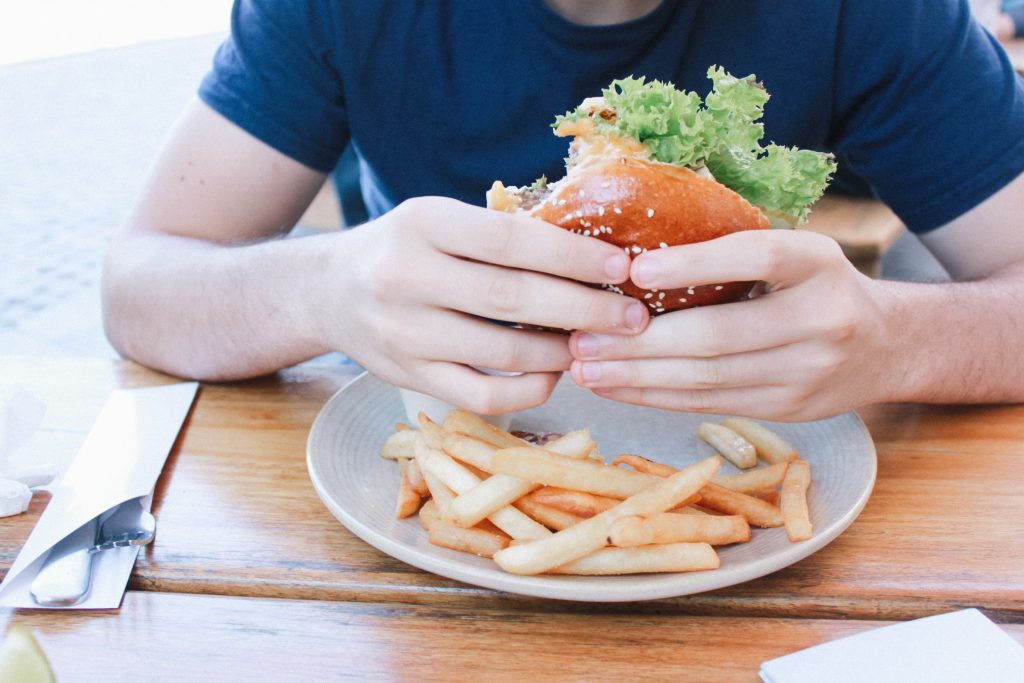 No food in the room / eat in the Cafe.
You are welcome to return to the room when you have finished eating and work / hang out.
Slightly early and longer lunch periods to get acclimated days 1 and 2 of school.
12:45 Attendance
12:50 Guided Practice: Photoshop Adjustments
Each day in the first quarter we will do a 20 minute guided practice project where the class will create something together. If you want to be a better snowboarder, you have to snowboard more. This daily guided exercise gives us the chance to practice practice practice, and become better, more efficient designers.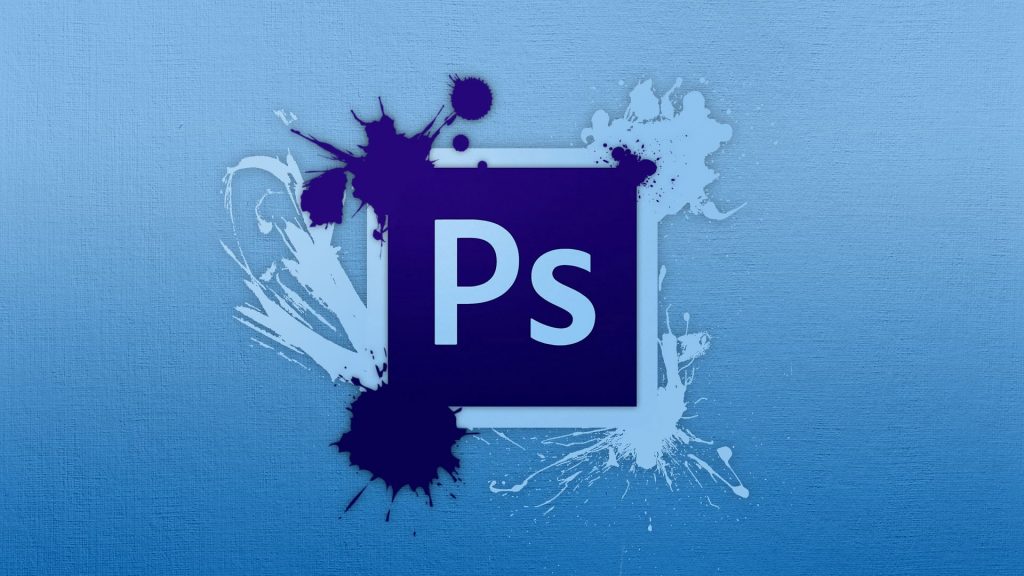 Even though it is Day 1 – let's see if we can get some hands on practice with some of our tools.
What is Photoshop?
What is an Adjustment?
Using masks to hide and show portions of your adjustment.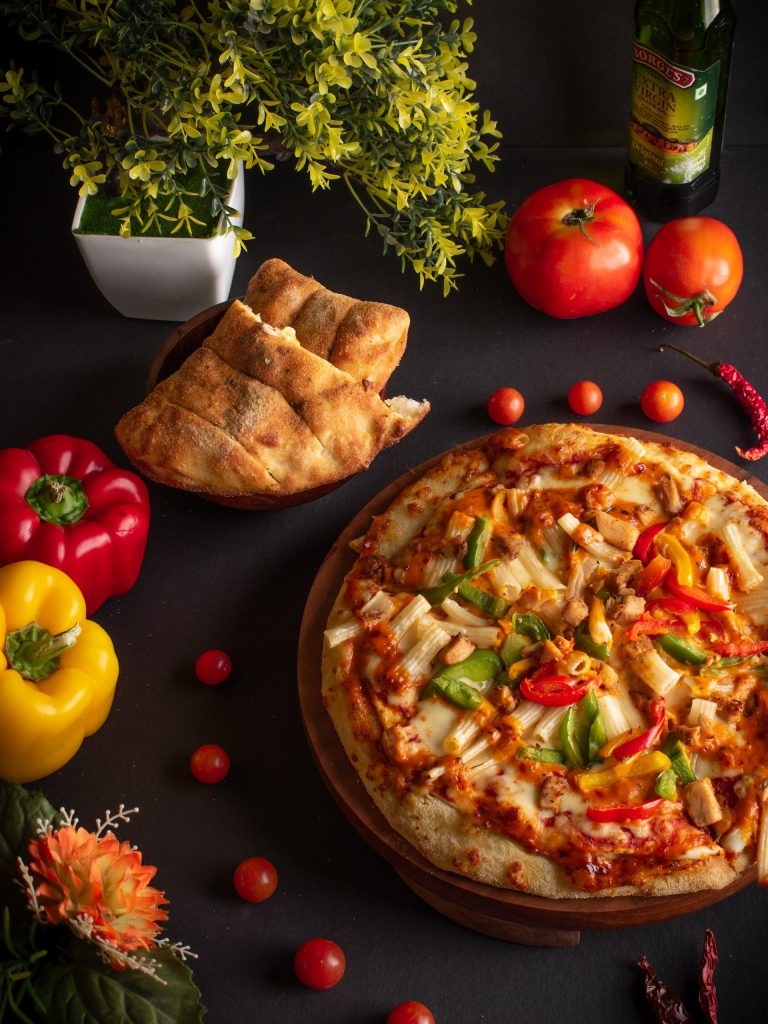 1:10 Afternoon Break (10 minutes)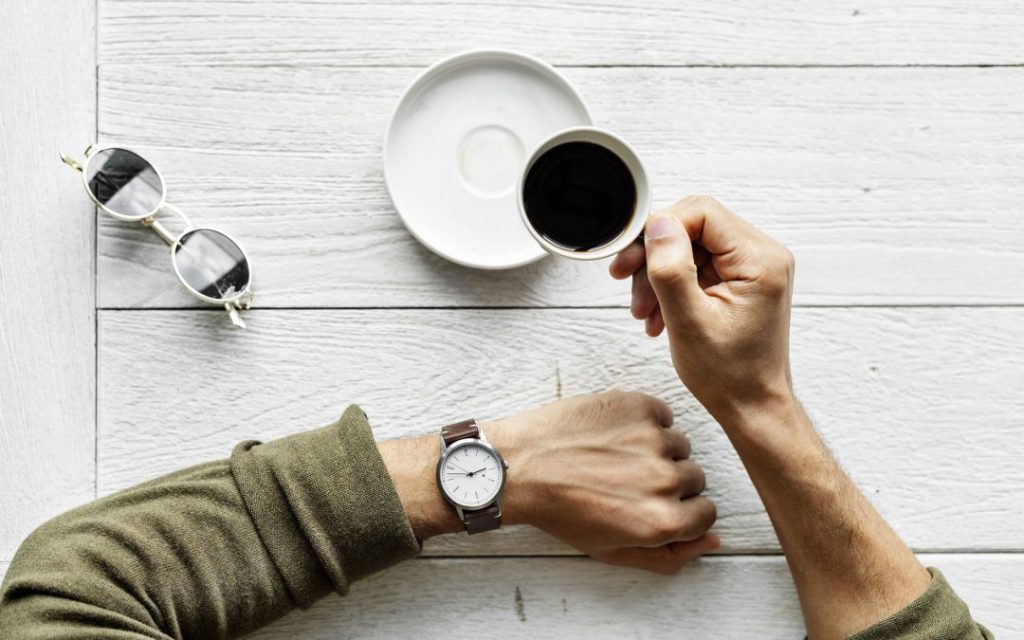 10 Minutes break – you have to exit the room.
When the door near the TV is open, you are welcome to come back in.
For the first week of school we are going to keep the CAWD room open for breaks.
1:20 Desert Island Supplies

In this getting to know each other activity (forced socialization!) we are going to work in rows to build a desert island supply kit.
Each row is going to work to come up with this supply list. If you found yourself in the image above, what single item would you bring. If your row has 3 people, that means you get 3 things. If your row has 5, you get 5 things. Let's say the goal is survival. (Nobody should be packing their Xbox.)
At 1:40 we are going to present – each row will come up, introduce themselves, and the presenter will go through your supply list.
Each row is going to need to elect:
A presenter
A note taker
An organizer
Use your art supplies / paper to organize your thoughts. I want to know what each member of the team is responsible for choosing – so the note taker must write clearly. Just a single piece of paper for the group.
This is a conversation, talk with your row and figure out the smartest items.
Each presenter will give me their sheet after presentations.
1:40 Presentations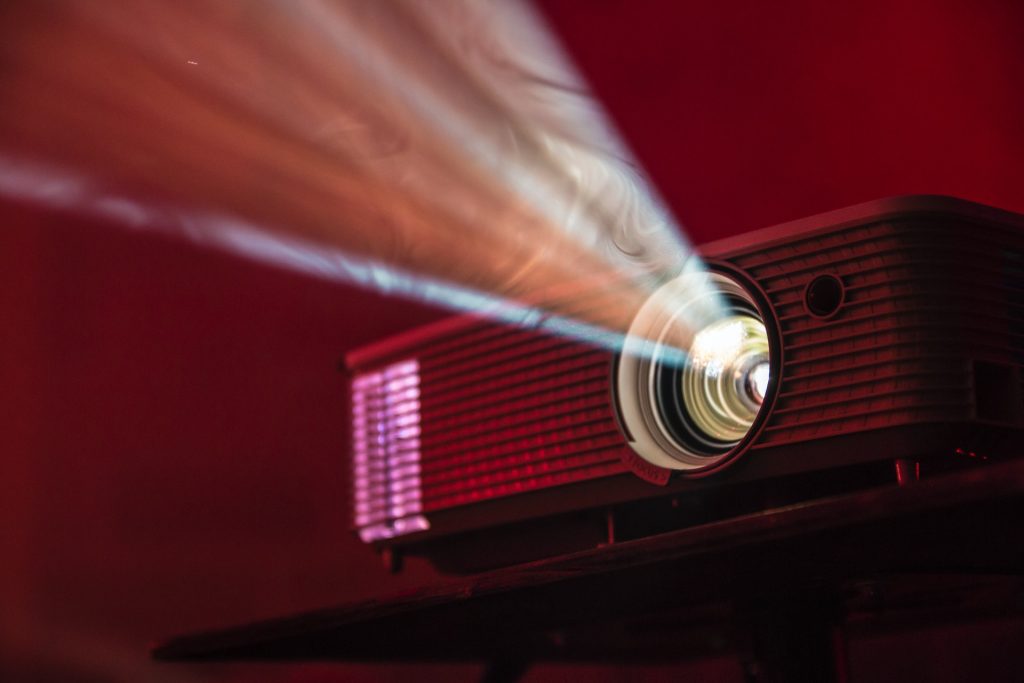 1:55 Dismissal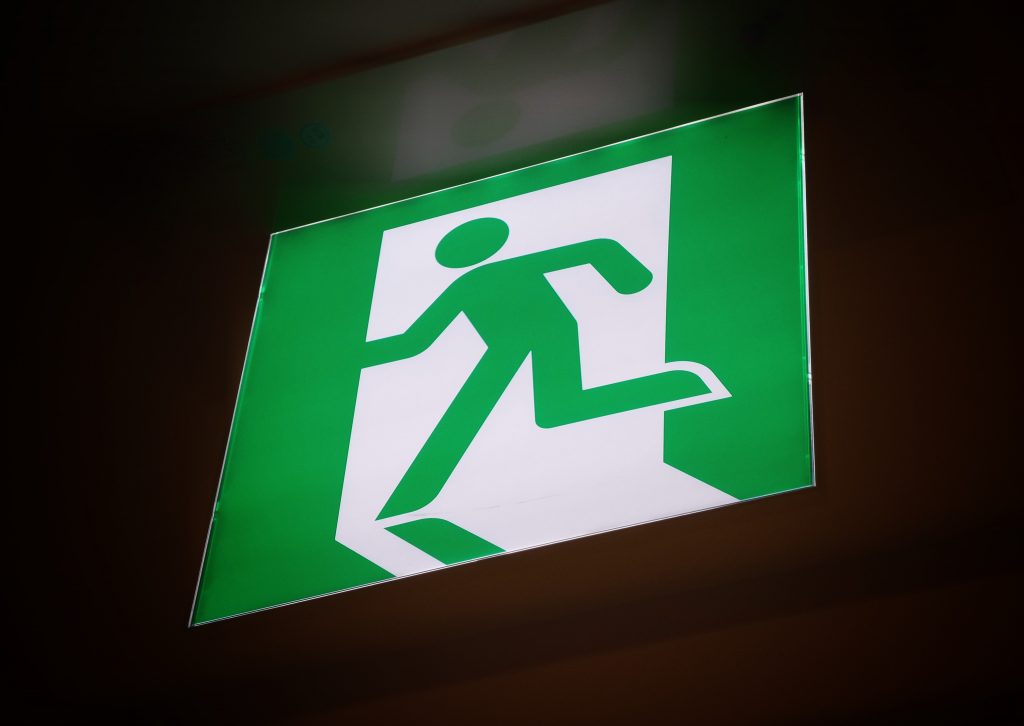 Typically I let you go at 2:05, but to get everyone comfortable we are all going to walk down together to where the busses are. We will do this Wednesday and Thursday.
Please be quiet in the halls – remember that EHS still has class until 2:35!
Don't dilly dally getting to the busses, right when we are dismissed for the day you need to get to them, as they will leave. And they will leave…
If you have a car (get a parking pass) you don't have to come with us to the busses.
You lived! See everyone tomorrow!