Class Hours: 9:40 – 2:05
Mr. Cronin
Mr. Bohmann
Notes
Welcome to Week 15! 10 days until a 12 day break for the Holidays!
This Friday we are going to have Marek Bennett visiting us for a workshop from 9:45 – 10:45. He will guide us in exploring the ideas of comics, characters, panels, and storytelling.
Thursday and Friday this week we actually start recruiting season. I know it is crazy to think about, but high school students around the country are starting to have conversations about where they want to study next year. This Thursday and Friday MMU will be visiting. More specifics on Wednesday, but if you have any friends at MMU tell them to sign up to visit Cawd and you can work with them when they arrive.
Friday is the Game Day Quiz!

Cawd2 automatically gets their Game Day as tribute for passing the gauntlet of Cawd already. Cawd2 has to be 100% caught up in projects and they are eligible. Both Cawd classes setup a system where going into vacation you are up to date – returning from vacation becomes less stressful as you are not behind the 8-ball.
This week on the Game Day Quiz you have to get a 90+ average. Last week you did not accomplish this. As recent as 1.5 years ago a cocky Cawd class lost a Game Day…while Cawd2 still had it. There was anger.
Mr. Bohmann is a great cook, heard about our potential interest in Tacos, and is going to setup a tacos station for Game Day. We will be able to help take part / kick in money … only if we get the 90. If we don't we will smell the tacos, hear the socializing, and we will be working on projects the day before vacation…which is FINE….but….

At 10:35 this morning we are going to introduce the SkillsUSA Pin Design Competition.
9:40 Attendance and Article
9:45 Design Homework 15: 3 Point Perspective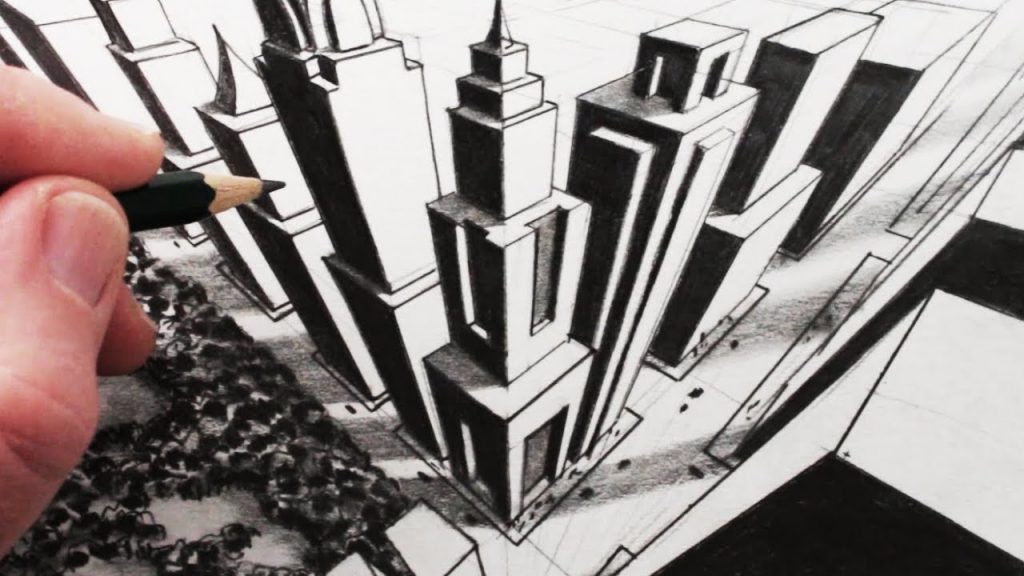 This week we will start the final unit in our 2nd quarter Perspective focus: 3-point perspective.
The main ideas are the same:
Horizon line
Left and right vanishing points
AND NOW we had a 3rd vanishing point above or below the horizon line
3 Point perspective is often used for huge scenes when you want to push the ideas of scale.
We are going to start by watching the learning resource provided. It is 4 minutes and 30 seconds. The students that are just winging this and drawing what they think perspective is, without watching the resource, aren't … doing as well in their grades/knowledge aquisition as they could be. Literally watch if double speed as a primer, it would be 2 minutes and 15 seconds. If you can't engage in your own education as an almost adult….good luck!
While you follow along I want you to do start out be drawing exactly what Jazza does from 10:29 – 15:00. I want you to draw a city scene from above, justs he does he does with you.
Setup your paper:
Horizon Line
Left and right vanish points as normal
3rd vanishing point below the horizon line (for this project, as we are looking down on the scene)
Gorilla Optional
Sign and date, due 1 week form today.
9:50 Site Maintenance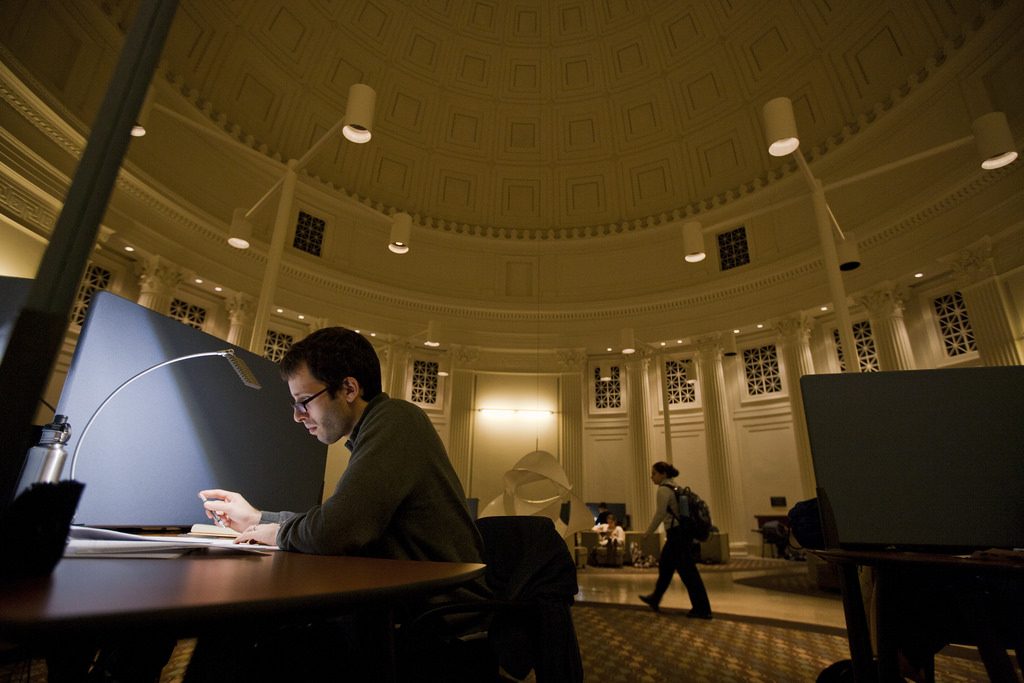 Check the Week 14 "What is due" – grading at 11.
Study for the Week 15 Game Day Quiz.
Continue to build prop objects for your Character animation which we will start animating tomorrow!
Explore and create.
10:35 Design Competition Introduction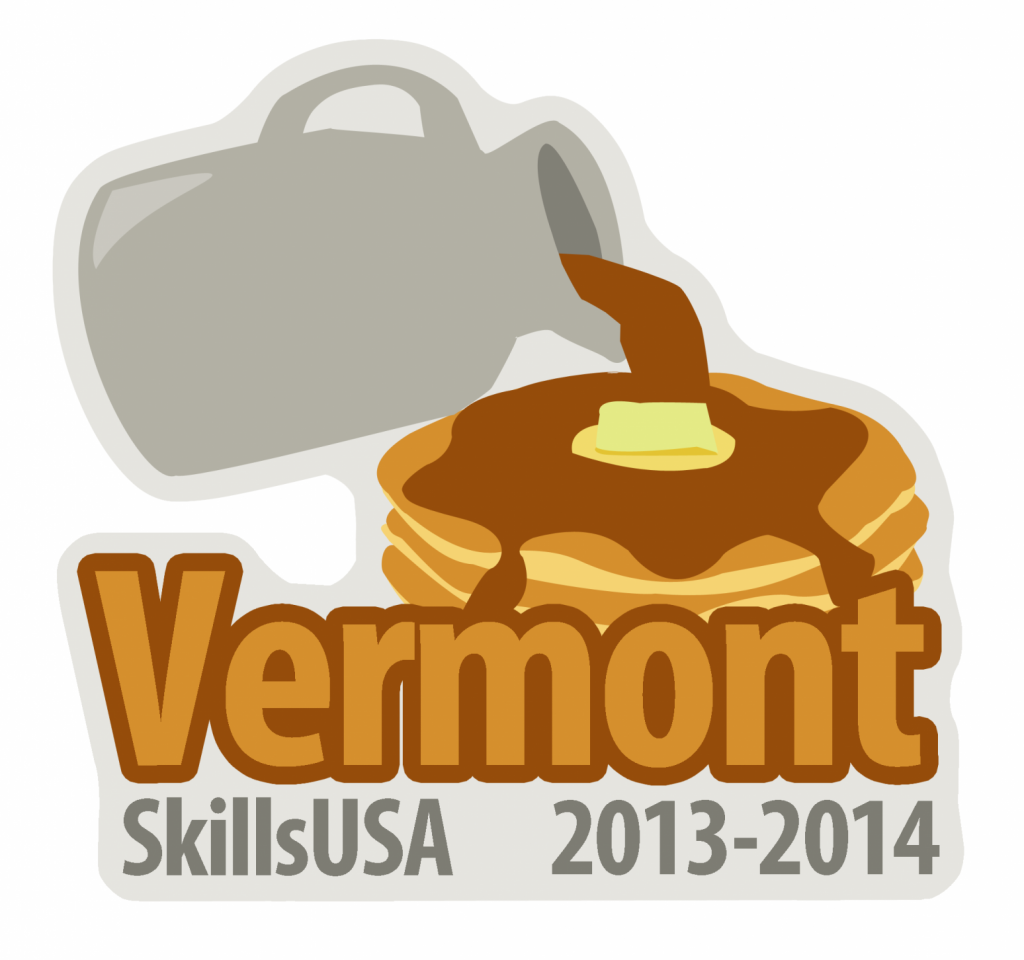 10:45 Break (15 Minutes)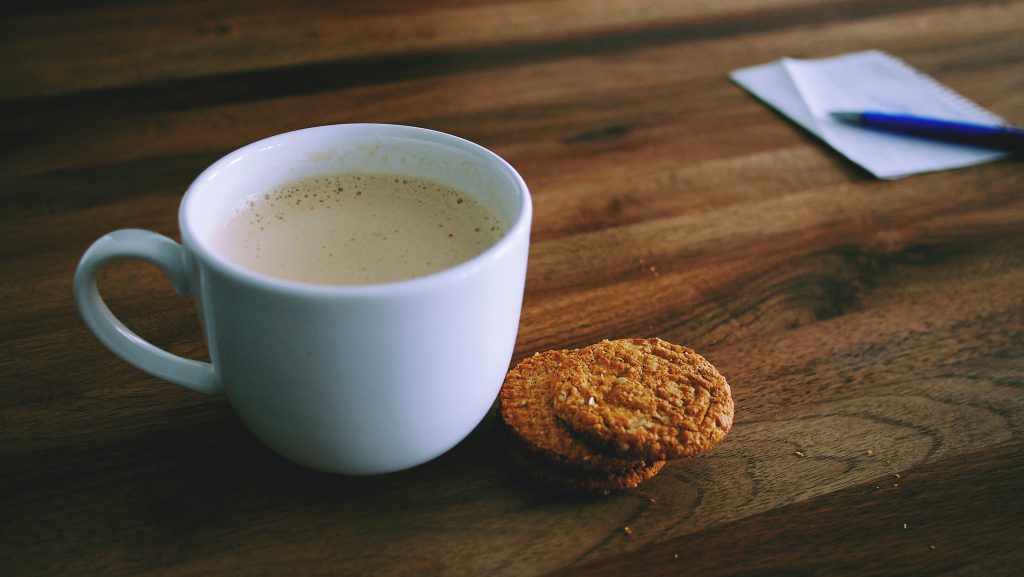 11:00 English with Mr. Bisson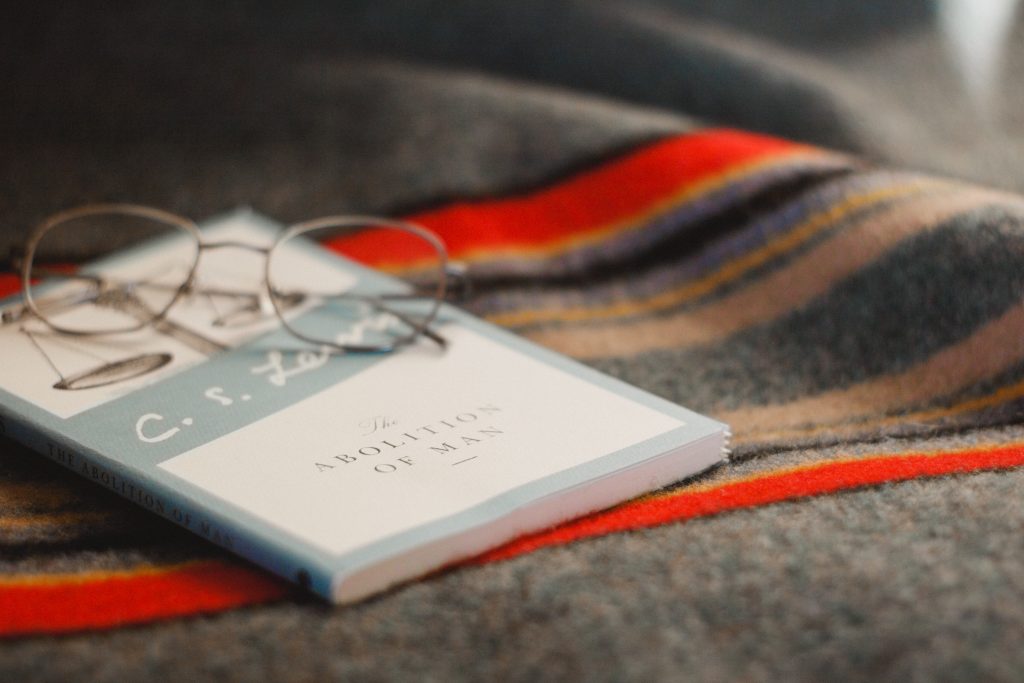 12:10 Lunch (30 Minutes)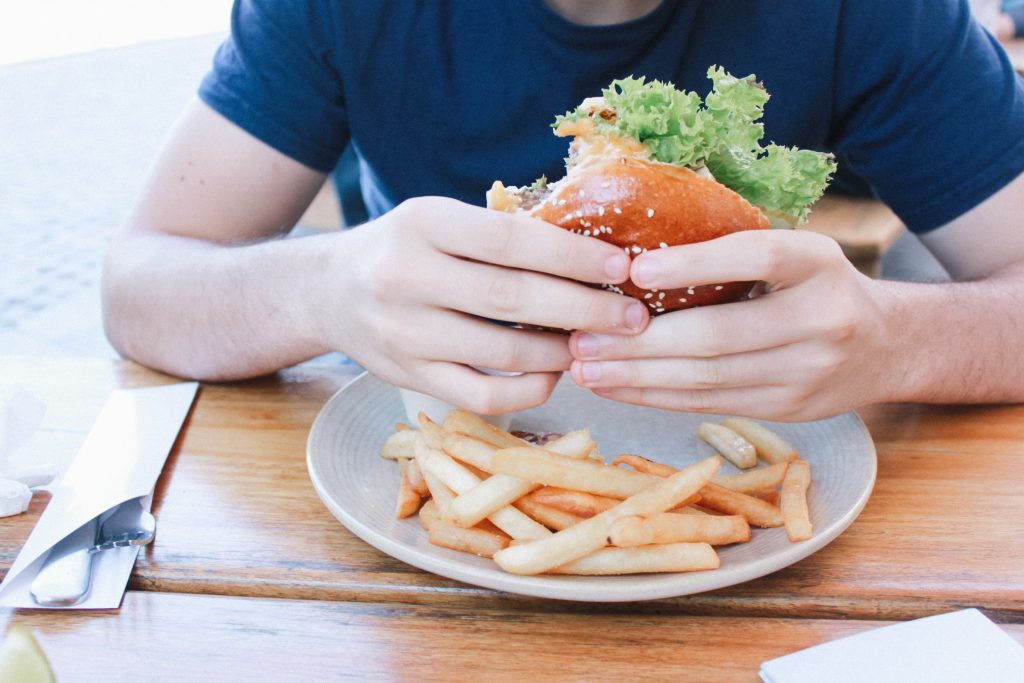 12:45 Speed Design | Illustrator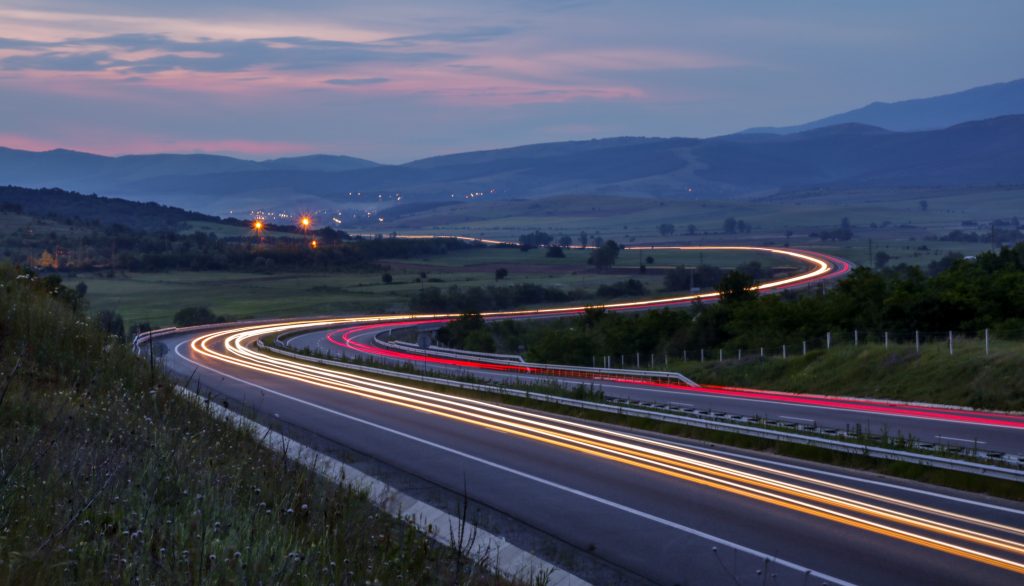 Working with Text in Illustrator
1:10 SkillsUSA Pin Design Competition Introduction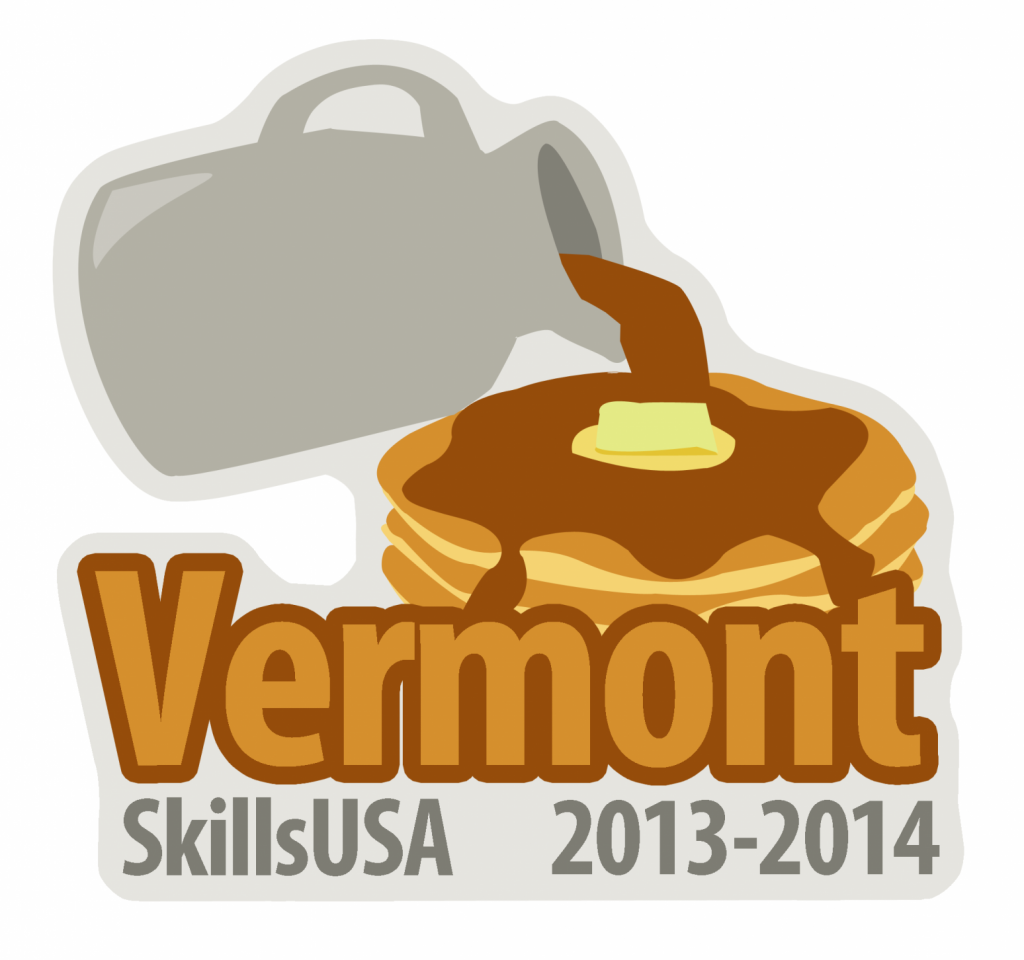 SkillsUSA is an organization which runs a number of our Design Competitions: Game Design, 3D Animation, Web Design, and Pin Design.
Pin Design is the Graphic Design Competition. In this event, students are tasked with creating a design to be made into a small metal pin. The winning design is selected and thousands of these pins are created and traded at the National Championships just like Pin Trading at the Olympics. Instead of each country, each state has their own pin designs.
Cawd has been State Champion at this event numerous times, and Cawd has won 2nd place in the nation in this competition in 2006. It is the easiest Design Competition to take part in through SkillsUSA, and a great introduction to the more in-depth events we will talk about after midterms.
Examples from the last 2 years:
Notice the commonalities:
SkillsUSA shows up (written as is all uppercase EXCEPT for lower case "kills".
The date date (we always design a year ahead)
The word "Vermont"
Official Contest Rules: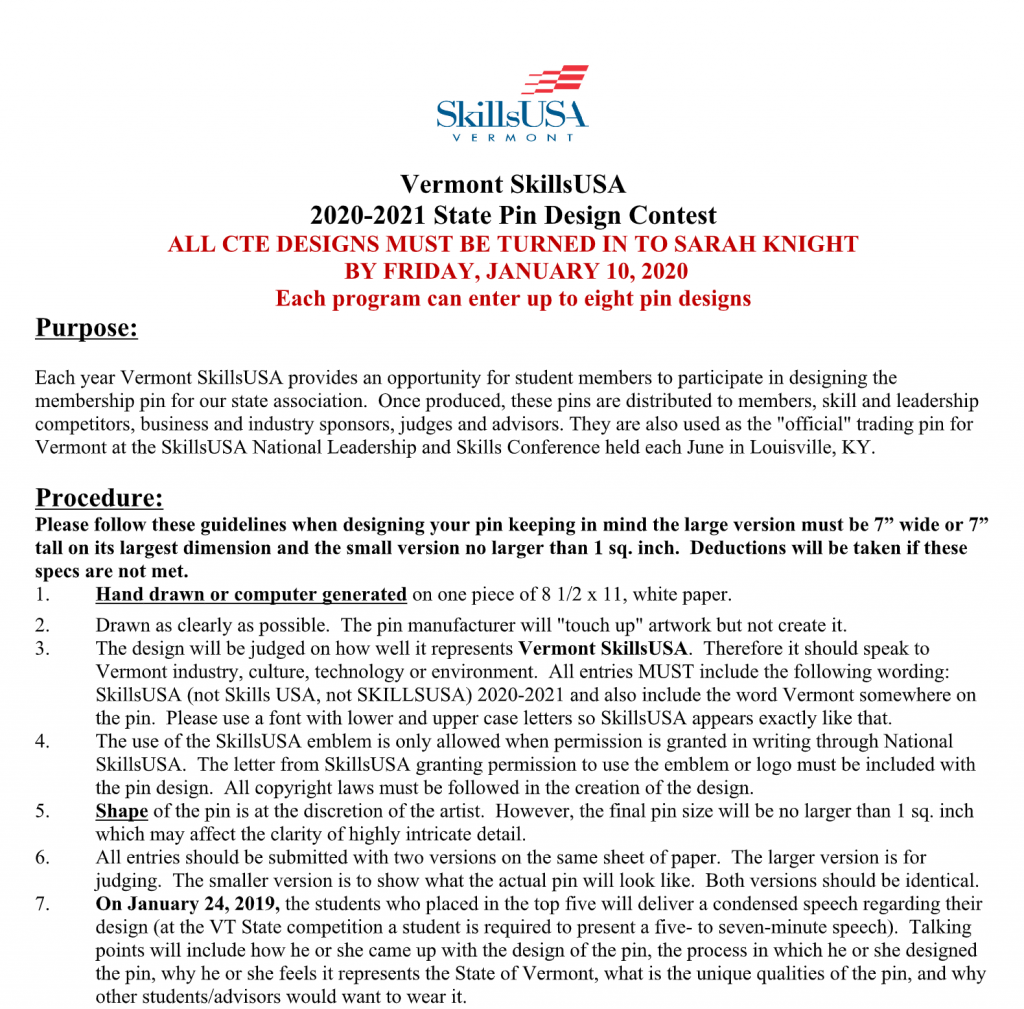 Our due date is sooner, but other than that the rules stand.
Our Production Schedule:
4/2/1 Design Packet – today (or tomorrow if here tomorrow)
1st Draft of Pin – completed T/W/TH this week
Presentation to class for constructive criticism – Monday the 16th (or Tuesday if here Tuesday)
Revisions (M/T/W/TH leading up to the break)
2nd Presentations to Mr. Cronin for constructive criticism – the day we return from vacation (Th – 1/2)
Final Pins due Monday January 6th at 11AM.
Let's start with the packets! This is pre-production, and stick art is fine, but the design elements and text needs to show up where you truly think it will in your design.
Draw 4 different designs in the 4 Quadrants

1 for Industry
1 for Culture
1 for Technology
1 for Environment

Cut 2 away – which two are the best? Remember this is PRACTICAL ART. I / You / We don't care what you like the best. What is going to win the Design Competition? What are the people going to like? This line of thinking works for design work in the real world – you have to create what the CLIENT wants, even if it isn't what you want.
Draw 2 more detailed designs of the remaining.
This will be timed, you won't like how little time you get to design, and that is ok – it is a quick pre-production exercise!
By the end of the day ALL students will place their final designs face up on the back table and we will do "Dailies" by walking around the table to see what we are going to create.
Students will pick which of the two final designs to create digitally tomorrow.
Tomorrow we start designing digitally.
2:00 Dailies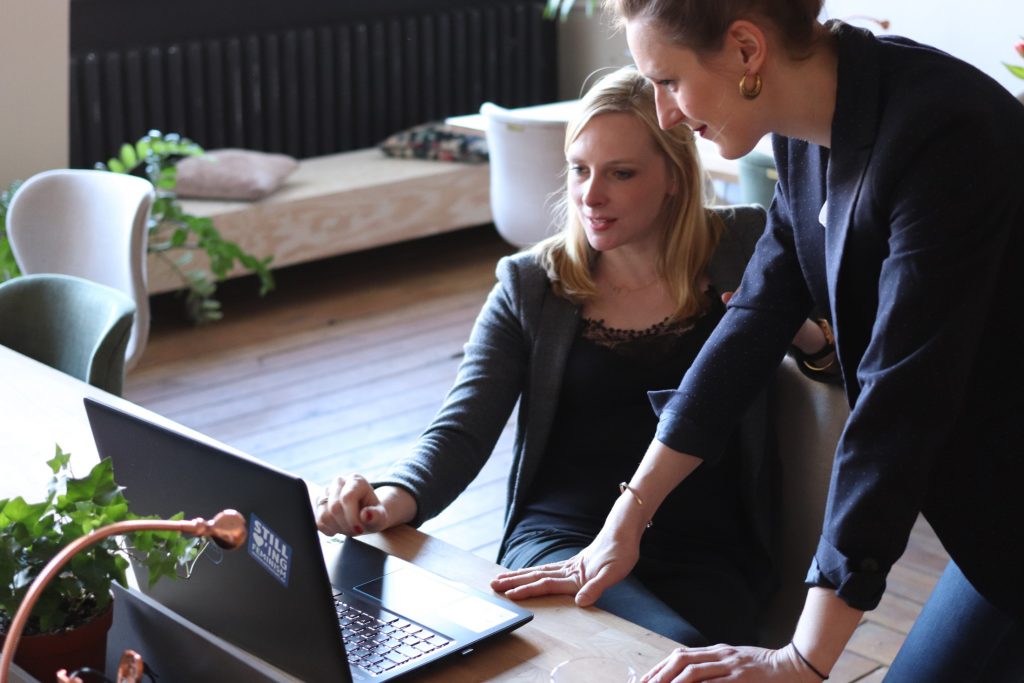 2:05 Dismissal