Class Hours: 9:40 – 2:05
Mr. Cronin
Mr. Bohmann
Notes
Welcome an ehs Tumultuous Tuesday! Schedules changed accordingly.
The schedule of the next two weeks: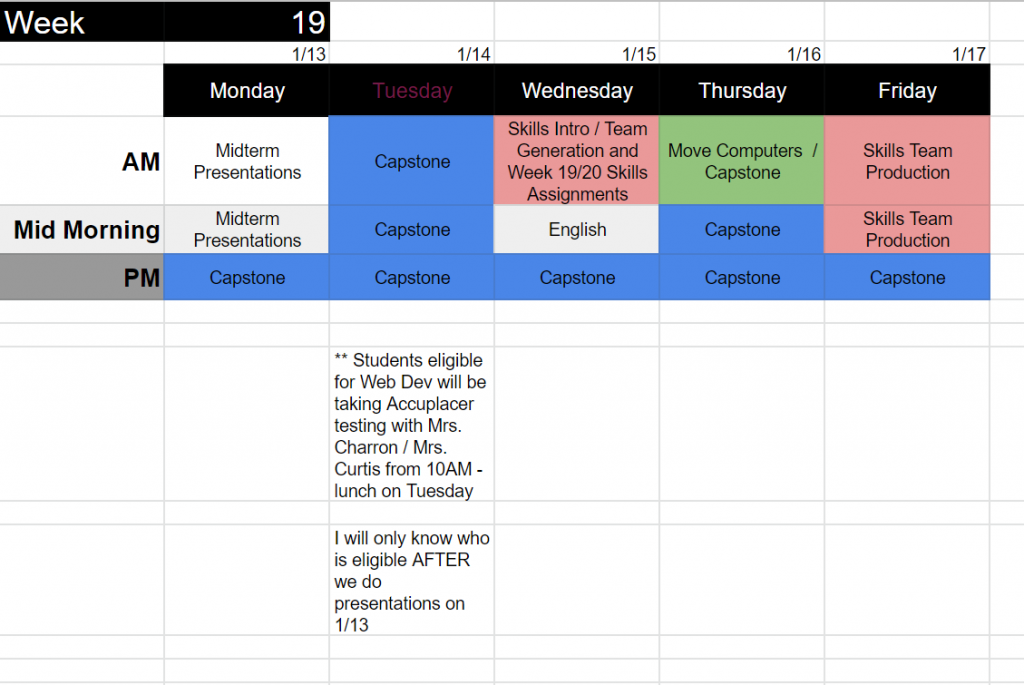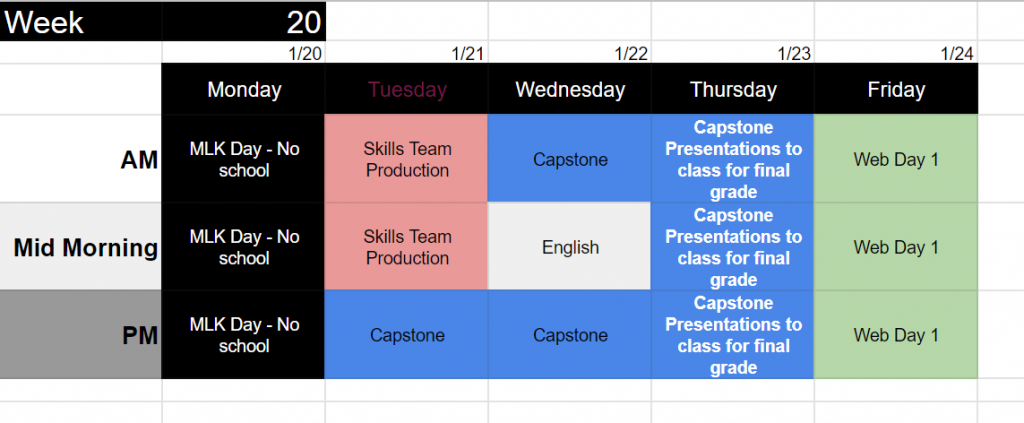 Don't forget tomorrow at 9:40 we are going to talk about Skills and select teams. You will get to see the contest descriptions from the 3 areas you get to choose from. If there is someone you REALLY want to work with line that up today. Students that are flexible and will go with the flow will be paired up and you can choose which discipline you wish to focus on during our Skills production time in the 3rd quarter:

Web Design
Game Design
3D Animation
9:40 Attendance and Article
9:45 2020 Capstone Production

Over portions of the next 2 weeks Cawd students will be working on a Capstone project.
This Capstone project is where students work on a project of their choice and present their work.
The Capstone has three distinct options:
Learn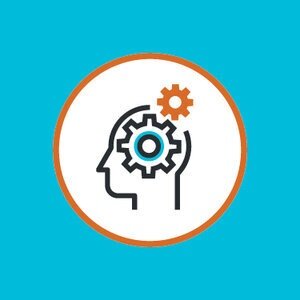 In Learn, choose an area of Cawd that is related to what we do but we haven't covered to independently learn about and present to the class.
Blender examples:
Bones
Hair and Fur
Particles
2D Animation
Photoshop examples:
Digital Painting
Animation
Unreal examples:
Game mode exploration (rolling, flying, 3rd person)
You will pick something new to learn about and demonstrate this through an applied project and explain what you have done.
Your grade comes from the acquisition and presentation of new knowledge.
Create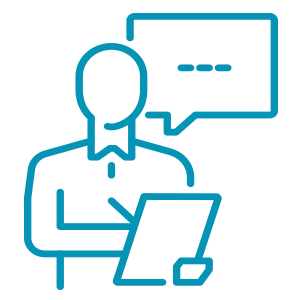 In Create, you will create a project with your current skills, with a topic 100% up to you the designer.
This option is focused on applying your current knowledge through a new creative project.
The final project will be presented as an animation, song, still frames – whatever makes sense for your medium.
Your grade comes from applied creativity.
Revise

In Revise, you will choose a single 1st semester Cawd project (including midterms) and apply your current skills to improve / upgrade the work*.
* This does not change the prior grade.
The final project will be presented in a "before" and "after" model. First, you will present the before, and then you will present the after and explain what you have done to improve the work.
Your grade comes from the improvement and refinement of your work.
Deliverables
Work goes into "capstone" folder (not in a specific week) and will be due on Thursday, January 23rd at 9:45. We have now moved into 3rd quarter and second-semester terms.
By the end of the day on Wednesday (1/15) I am going to need your focus (Learn vs. Create vs. Revise) and your implementation (specific project).
9:46 Accuplacer for students interested in Web Dev College Class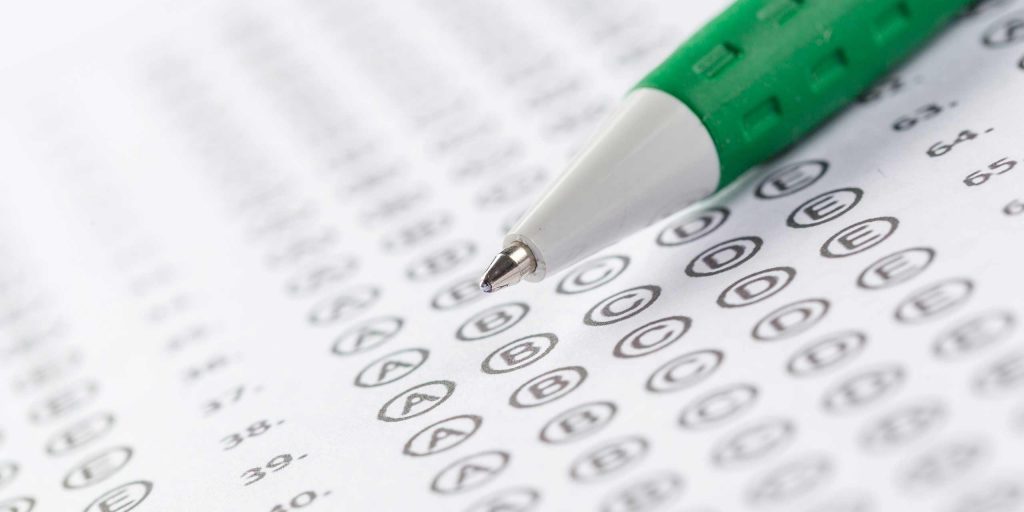 Selected students that ended up with an A level grade for Semester 1 (A- and up) are eligible to earn college credit in Cawd for our Web Design semester, which the Vermont State College System says is equivalent to "Web Development" offered throughout Vermont at college campuses.
First we will talk with students eligible to give an overview of class, and due Cawd's size we cant go there for testing, we simply have too many people. They will come to us a 10AM.
10:05 Student Voting on Pin Design and T-shirt Design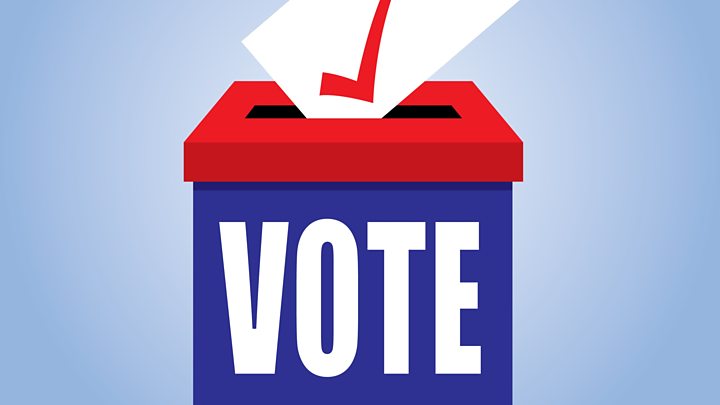 Today we are going to start our voting process for both the Pin Design and T-shirt Design Competitions.
We are going to look at the designs posted from CTE in both disciplines, and then cast out ballots. You get to vote for the top 5 spots, with it weighted so who you vote for in 1st place counts the greatest, then 2nd, and so on.
Please vote for yourself and each other! If you help each other out, there is a greater chance that students in the room win scholarship money down the road.
Mr. Bohmann and I were tasked with cutting 11 pins away from Cawd, so not everyone's work is on the board – it had to do again with the size we are and the size of the bulletin board. I tried to get everyone's work up, but it I was overruled.
We have a yellow ballot for Pin Design.
We have a green ballot for T-shirt Design.
Bring a pen, and lets please be quite in the halls! Voting today:
Brzoza
Cahill
Larson
Fry
Gaudette
Gurung
Lavallee
McDevitt
Oliver
Solomon
The rest of us will vote during English tomorrow.
10:45 Break (15 Minutes)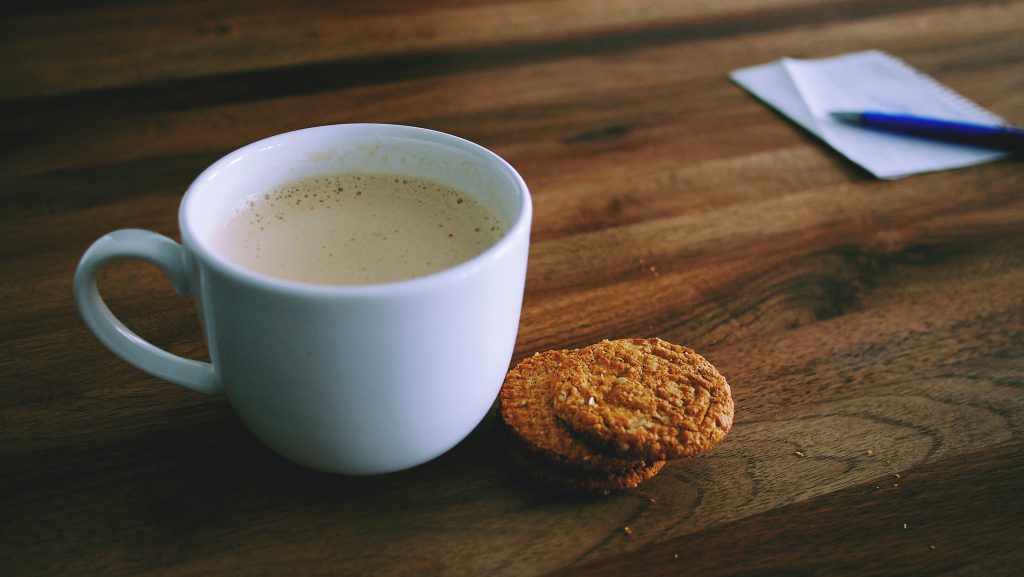 11:00 2020 Capstone Production

11:50 Lunch (30 Minutes)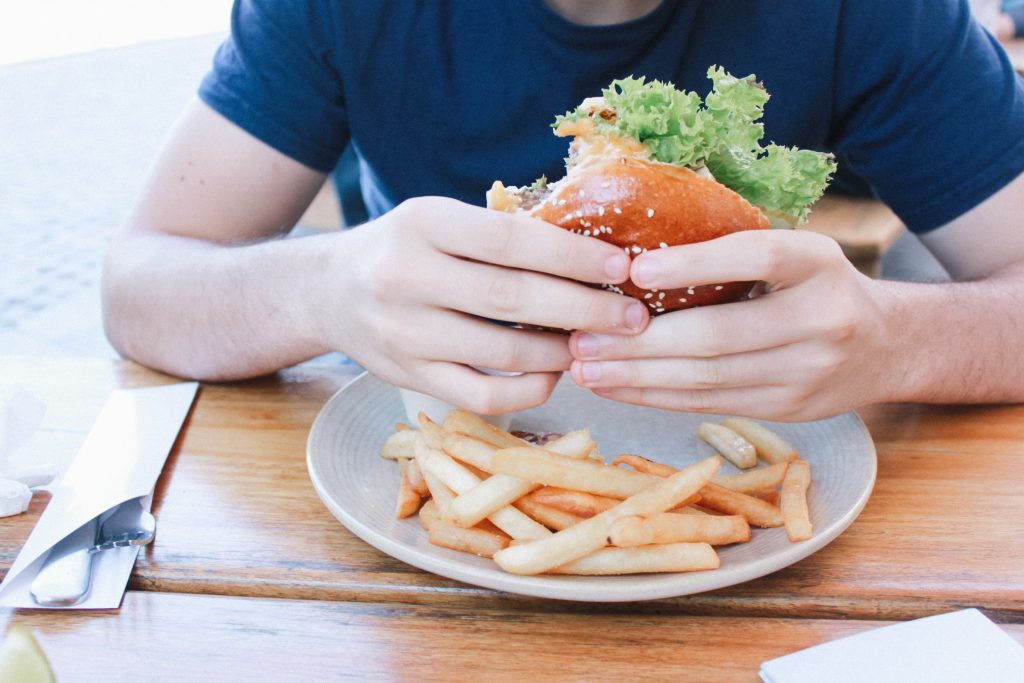 12:20 Attendance and Article
12:25 2020 Capstone Production

2:00 Dailies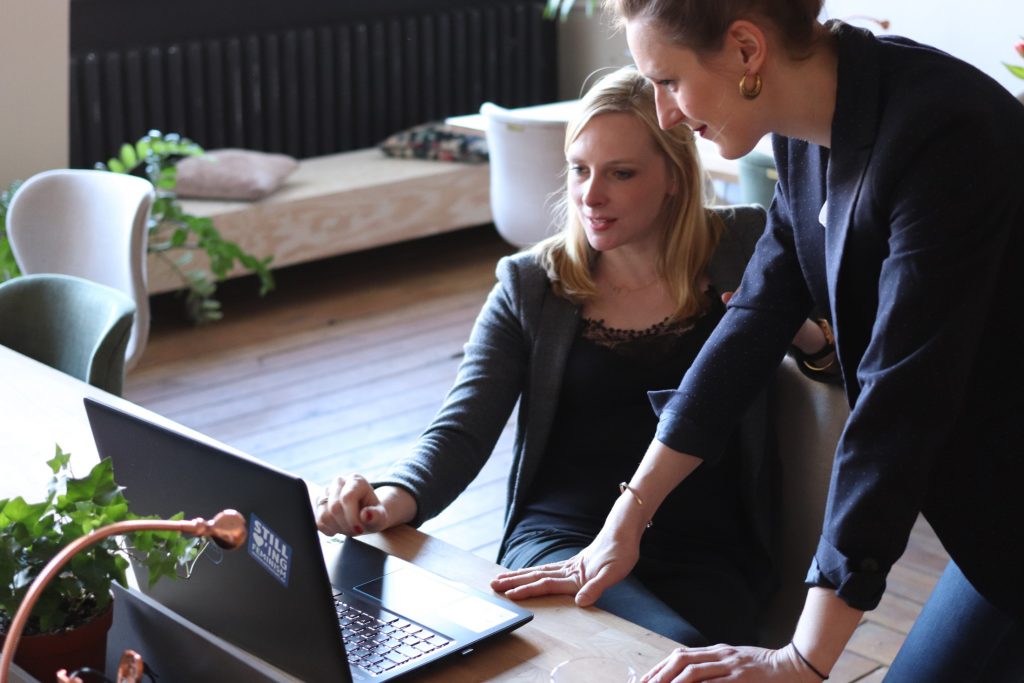 2:05 Dismissal