Class hours: 9:40 – 2:05
Mr. Bohmann
wbohmann@ewsd.org
Welcome to Week 15
Notes
December, Week 15
Week 14 "What is Due" – double check you caught it all
Portfolio – Semester 1 Project/Final Exam – Pay Attention
Game Day – Next Friday- Will you qualify? You need to be complete with all outstanding coursework by Tuesday, December 17th. Otherwise you can sit in Student Services doing your work while the rest of us eat tacos prepared by me, Chef Will and play video games ALL DAY!
Quiz – Tuesday, December 17th – Bootstrap Basics
This Week – Marek Bennett will be visiting us on Thursday. He'll walk us through the process of producing comics, storyboarding and digital content for the web. Be sure to look at his site.
MMU students will be passing through our classroom this week as part of a recruiting visit. You picked CTE and Cawd for a reason. The best recruitment comes from within, so consider how Cawd has impacted your High School experience. More on this later….
CCV classes end on Friday – Way to Go! Don't be incomplete. Finish strong.
Project Backlog – Let's have a look
9:40 Attendance & Article
9:45 – 10:45 WordPress CMS

WordPress is the most popular Content Management System (referred to as a CMS). It began as a forked project in 2003. WordPress is open-source and was started primarily as a blog platform.
WordPress is either a hosted service on WordPress.org or hosted on a web server as WordPress.com. The plugin architecture makes it possible to add thousands of features to customize the CMS. Themes are used to customize the look and functionality of WordPress sites for blogging, e-commerce, portfolios and media galleries. Over 30% of the web is made up of WordPress sites.
WordPress needs a web server, a database and PHP in order to function correctly. MySQL is the database that manages all of the content with the individual pages processed through PHP.
Today, we are going to install the latest version of WordPress on our computers and begin using the platform by turning our computers into local servers. Which means we'll turn our computers into web servers.
You are probably familiar with MAMP, which is an excellent tool for developing web content locally before loading to a hosting server. I'm going to introduce to you another local development tool called…. Local. With Local, we can develop on our machines, but… we can also get a link to our local sites and share with others to view! You can't do that with MAMP.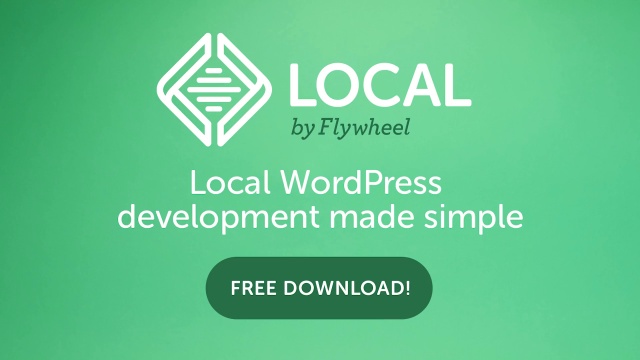 Using Local, we can nearly one click our way into a fresh install of WordPress. From there, we will learn about the Dashboard, set a theme and begin using WordPress. If you pursue work in the field of Web Development, it is imperative you understand how WordPress works.
Tomorrow we will begin the process of developing our own Child Themes and learn about how Child themes work within the WordPress framework.
Navigate to Local. Click on download, unzip and add local to your applications (just follow the on-screen instructions).
Your next task will be to create a site name (anything will do for now) a username and password to access that site (write it down or put on your phone – I can't help you with user/passwords!)
Once your site is created, update to the TwentyTwenty theme. We'll use this as our starting point. The goal for today is as follows:
Get familiar with the Dashboard
Learn about Gutenberg – WordPress's editor
Create a Blog post – Describe something you did this weekend
Create a Page – How about an About Me – (you can copy and paste from the Google Doc we did no this topic a month ago)
Explore the Customizer
Install a plug-in
Share the link to your site – Link Dropbox
Basically, poke around and see what you can / cannot break
10:45 Break (15 Minutes)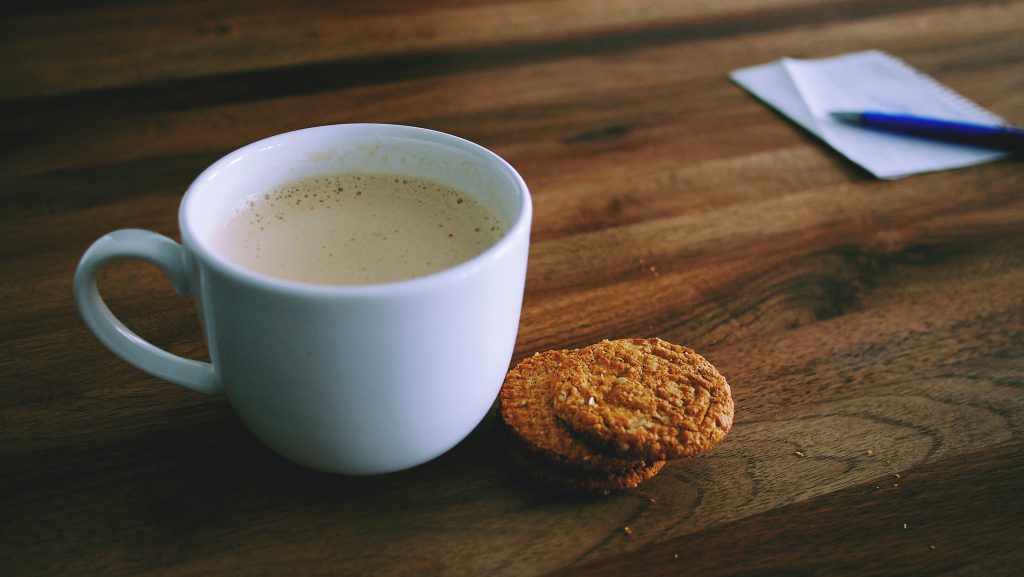 11:00 – 12:10 Physics – Room m117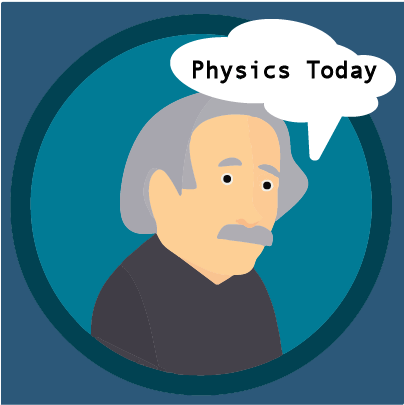 Class meets in room m117 at 11am. Go to class immediately from break. When class is over, you will head to lunch.
12:10 Lunch (30 Minutes)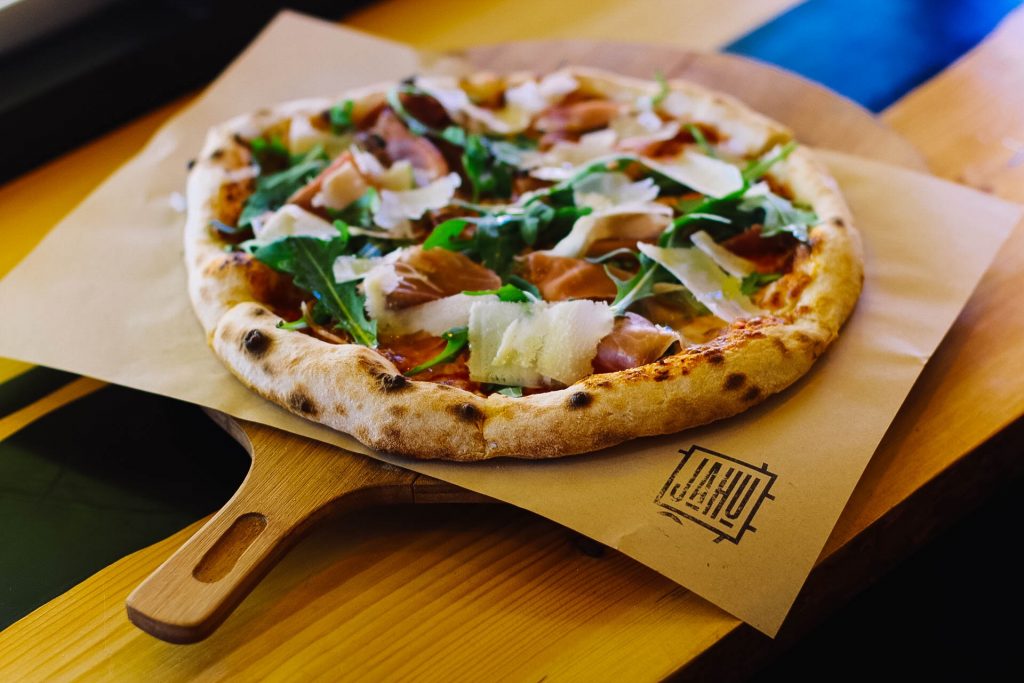 12:40 – 1:05 Literacy in Focus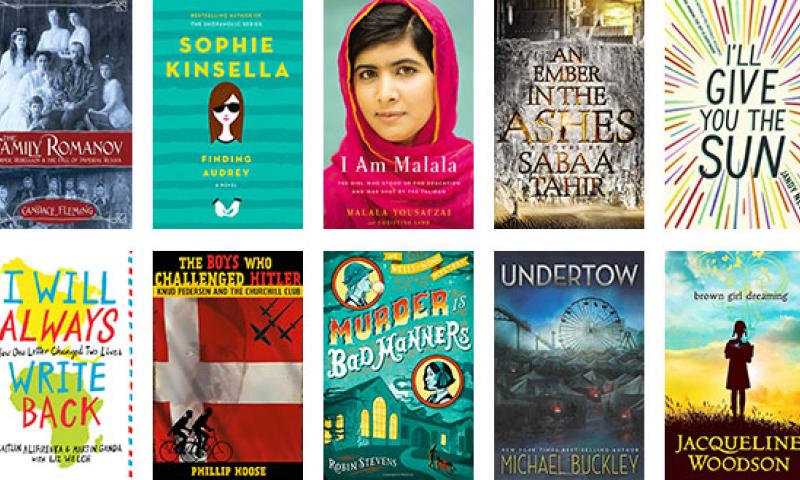 Grab your book and chill. We'll be reading today. No computers, no talking. Sit on the couch if you like or move your chair.
1:05 Skills USA Project T-Shirt Competition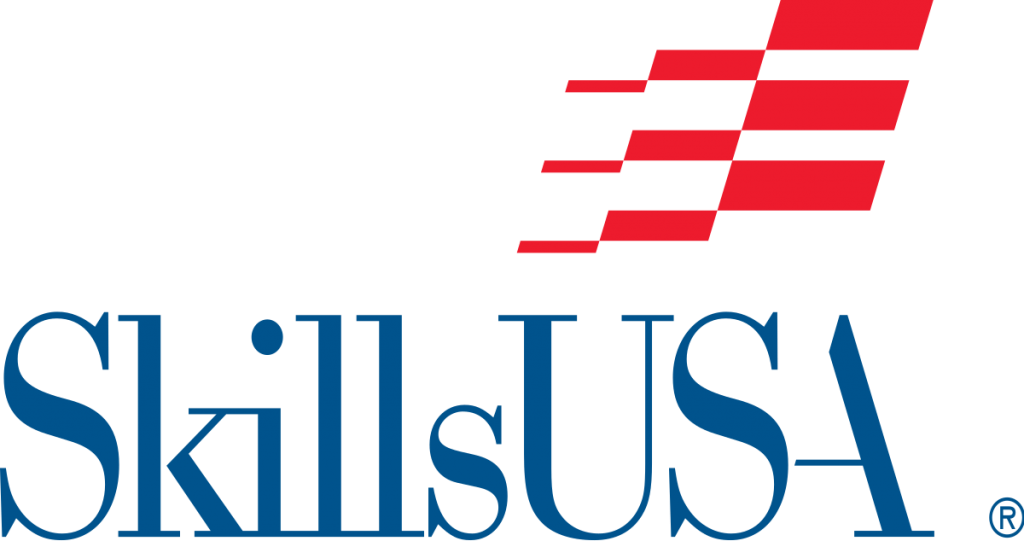 No doubt you are familiar with Skills USA Design Competition. As first year Cawd students, you worked through a series of drafts to complete a Vermont themed pin. Second year students are going to tackle the T-shirt competition.
Official T-Shirt Contest Rules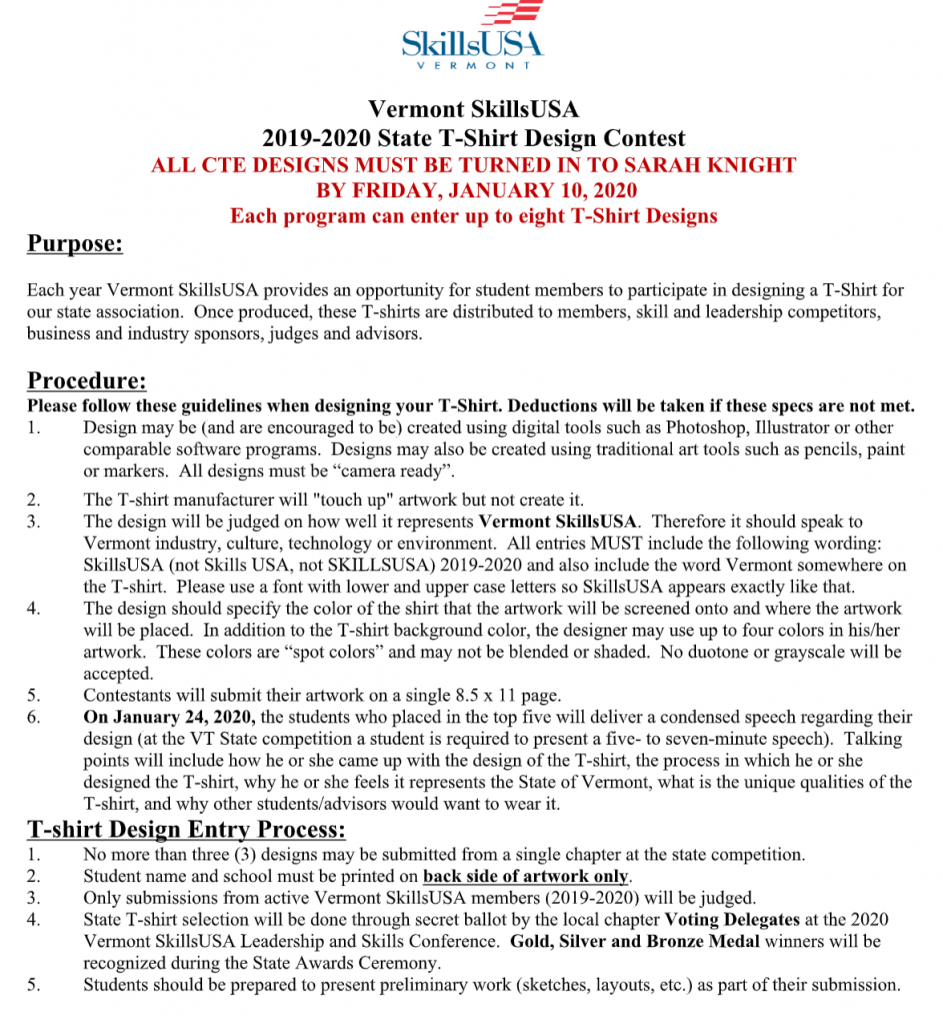 Quick Summary Details
8×11
You may use up to 4 colors (no gradients or grayscales or shades), you also get the color of the shirt which you get to pick
SkillsUSA – is the way you must write it – no derivatives
2019-2020
The word Vermont
Our Production Schedule:
4/2/1 Design Packet – today (or tomorrow if here tomorrow)
1st Draft of T-Shirt – completed T/W/TH this week
Presentation to class for constructive criticism – Monday the 16th (or Tuesday if you were not here on Monday)
Revisions (M/T/W/TH leading up to the break)
2nd Presentations to Mr. Bohmann for constructive criticism – the day we return from vacation (Th – 1/2)
Final T-shirt Designs due Monday January 6th at 1pm.
Let's start with the packets! This is pre-production, and stick art is fine, but the design elements and text needs to show up where you truly think it will in your design.
Draw 4 different designs in the 4 Quadrants

1 for Industry
1 for Culture
1 for Technology
1 for Environment

Cut 2 away – which two are the best? Remember this is PRACTICAL ART. I / You / We don't care what you like the best. What is going to win the Design Competition? What are the people going to like? This line of thinking works for design work in the real world – you have to create what the CLIENT wants, even if it isn't what you want.
Draw 2 more detailed designs of the remaining.
The pre production drawings will be timed – this is a quick pre-production exercise to generate ideas – it is not a polished finished piece, so don't worry about fine details.
For Dailies, we'll do a gallery walk at the front of the room to see what everyone generated. Place on the cabinet.
2:00 Dailies
Link to Dailies and Link to Responses
2:05 Dismissal